May 02, 2022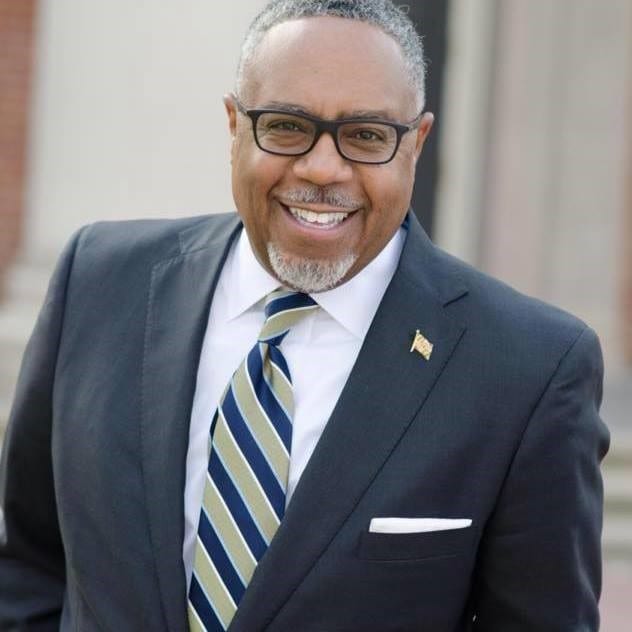 "My career was developed as much by necessity as it was my desires." D. Michael Lyles '94 has built a successful and rewarding career by making the most of each opportunity presented to him — even if it's not always been in the way he envisioned it. Now City Attorney for the city of Annapolis, Maryland, Lyles uses the wealth of public and government experience he's built up over the years in order to serve others. After being recognized by the Black Law Students Association (BLSA) with their 2022 Diversity Leadership Alumni Award, Lyles reflected on his time as an evening student and the trajectory of his career.
Lyles grew up in a poor and working-class neighborhood in Southeast D.C., raised by his "very loving God-parents." He began attending Catholic school in third grade and went to Gonzaga College High School. After high school, he left the District to attend Iowa State University with the hopes of becoming an Aerospace Engineer and astronaut. When his plan did not work out as he had hoped, he adjusted. "I pivoted to Business Finance, which I thoroughly enjoyed. I joined the U.S. Army Reserve to help pay for school and transferred later to the University of the District of Columbia where I was a student leader and graduated Outstanding Graduating Senior from the Finance Department in 1986."
He began his career in corporate America and from there, he took a position with the Department of Navy – Naval Air Systems Command in the Career Intern Training Program to become a Contract Specialist buying major weapon systems. What should have been a three-year program took Lyles just a year and a half to complete and he quickly rose in the ranks — taking responsibility for procuring billion-dollar weapons systems for the Navy. It was during this time, working with lawyers and contracts daily, that Lyles began to consider law school. "I decided to apply to area law schools with evening programs so I could continue to work and contribute to my household, which included a wife and very young child. My wife was very understanding and was seeking to get her Master's in Public Health. We enrolled in our different graduate programs and worked full-time and raised our first daughter. It was many nights of study and shifting household and childcare duties. It was tough but, as I look back it was an amazing and exhilarating time for us."
As Lyles explored his options, he learned that several friends from undergrad were attending Catholic Law. Once that connection was made, Lyles learned all he could about the school and the care and acceptance offered by the Catholic Law community cemented his decision to attend. "Catholic and its recruitment were all about the personal touch as I was contacted early and often by students." He continued, "Catholic also offered a chance to enroll in a summer pre-law program for minority students. It was a great program sponsored by a local law firm and we learned a lot and made friends for life."
Despite a full-time job and a young family, Lyles found ways to be a fully committed and active member of the Law School community. He was a member of BLSA and also represented the school at the National Civil Rights Moot Court Competition held in Minnesota — making it to the semi-final round of the competition. Lyles is grateful for his time at Catholic Law and the support the community provided. He shared, "At the time, there was so much support across faculty and staff for me personally and for the organizations I devoted time to like BLSA. I also learned much from the professors in and out of class, although I thoroughly enjoyed the in-class experience. My student life and organizational experience were enhanced by people like Joan Vorrasi and Dean Leah Wortham, who helped us take advantage of so many great opportunities and allowed us space to express ourselves in BLSA and to assume student leadership locally and nationally." He added, "The feeling and warmth of the campus environment kept me going and it keeps me engaged with the Law School to help more students find themselves and success as practicing lawyers."
After graduation, Lyles knew that he wanted to use his business degree and background in contracts to litigate in the corporate space, but his early career required him to be nimble and to make different opportunities work for him. Armed with the determination to become a trial lawyer and the advice of several mentors, Lyles resigned from his government position and took a judicial clerkship (and a pay cut) with The Honorable Rufus King in the D.C. Superior Court. "There I was able to write, watch the judicial process, and see many great Washington lawyers try cases every day." When no large, well-known law firms would hire him post-clerkship, Lyles found smaller firms and different opportunities to hone his skills. He used a position at the Office of the General Receiver for Child Welfare in the District of Columbia to reorient himself to working at less high-profile law firms but where he knew he could still get trial experience.
He fondly remembers working for A.J. Cooper at Cooper and Associates, P.C. in Washington as one of the best positions he had while starting out. "Mr. Cooper had worked for many years at the largest law firms and was also one of the founders of BLSA. I worked at his firm for a few years, and I was in trial soon and learned some great lessons about how to try a case and how to win. I soon had my hands in all manner of business-related advice and counsel opportunities as well as litigation of complex corporate matters." After his time at Cooper and Associates, Lyles and a friend opened a small law firm, Jones and Lyles, with an emphasis on business law and litigation. They represented small and large business interests and individuals in contractual disputes, employment, and real estate matters.
Though Lyles has faced challenges throughout his career, he has also found it to be incredibly rewarding too. "Some of the biggest challenges of my career had mostly to do with me not getting the jobs I wanted initially. As someone who has always managed to make things happen, that was a challenge and had me down for a moment. But I pivoted and made the best of each and every opportunity presented, and with the love and support of family, my eventual choices became my life, and I used the disappointments to fuel my desire to be one of the best lawyers practicing. I have since, in various positions, engaged with many of the same law firms I once sought out and have been able to produce successful outcomes for clients either at trial or on appeal." Having had the opportunity to work with great lawyers, Lyles has used each experience to always learn something new that would make him better. He's also appreciative of the clients he's been able to meet and help over the years. "I also have met many great clients and have been, over the years, able to change people's lives because I fought for them and their business or personal interests, sometimes when others did not believe in their cause. Many of my clients have stuck with me over the years as their private attorney and I have cultivated many lasting friendships as well."
Having created a fulfilling career for himself and experiencing firsthand the value of mentoring relationships, Lyles concluded with advice for the next generation of lawyers. He shared, "Take every opportunity while in law school to take a variety of courses to determine which area of the law suits you. Also, to get help anywhere it is offered in order to get the best grades you can." He added, "As for young lawyers, I would say to always look out for clients and never betray their trust. Work hard and look for the thing in a case or matter that no one else thinks is important. That might be the key to success for a client. Get your rest and devote sufficient time to family and friends and non-legal pursuits."