May 02, 2022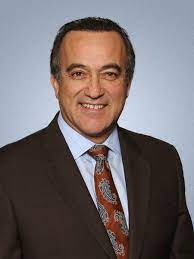 "Faith, family, and flexibility." These are the words Frank Garza '86 uses when describing his career — especially in defining his early career. Currently, Garza is a shareholder at Davidson Troilo Ream & Garza and currently serves as City Attorney for the cities of Alamo Heights, Balcones Heights, Cibolo, Helotes, Hondo, Karnes City, Robstown, Rockwall, and Terrell Hills. He has come to this point in his career through hard work — remaining flexible and dynamic to gain extensive public and employment law experience. After being recognized by the Latin American Law Students Association (LALSA) with their Diversity Leadership Alumni Award, Garza reflected on the importance of dedication and being open to opportunities as they come.
Born in Mexico but raised in San Antonio, Texas, Garza has always felt very honored to call the city home. He attended college locally, at Trinity University. The school was known for its journalism program, which was excellent for Garza because growing up, he had every ambition of becoming "the Latino Walter Cronkite." It wasn't until his senior year in college that Garza even thought about becoming a lawyer. As Garza described it, by senior year, he had already started working at a local news station, in their sports department. "It was a young man's dream job. I got paid to watch sports. I cut the videotape for highlights, I got to watch sports, go to sporting events, and do the interviews at sporting events. I got to interview some of the greatest stars. It was just a great opportunity. That's what I was doing and that's what I thought I was going to do."
Then one day, he was asked to step in and take lead on a story just breaking about the arrest of a local boxing star on the rise. The backlash his story received was intense and immediate. "It opened my eyes to how different backgrounds of individuals can skew a story." It was during this time that his boss at the news station encouraged him to pursue a different career and one college experience, in particular, helped to cultivate his interest in pursuing a law degree.
As it happened, Garza was taking a communications law course at Trinity and was loving it, so when he came across a flier for Catholic Law's Communications Law Program (now the Law and Technology Program) he immediately became interested. "One afternoon, I saw on the bulletin board The Institute for Communications Law at Catholic University. I looked into it — I submitted the postcard to get the brochure sent to me — and I just found it interesting. So, I went from wanting to be a reporter to thinking I wanted to do communications law."
With a new path in communications law in mind, Garza left his home and family behind in Texas and was off to Catholic Law. As he navigated law school, Garza's classmates and friends were there to support him. Garza noted, "It was one thing I loved about Catholic. It was not cutthroat while I was at Catholic. It was such a pleasure being there with the people I was there with." He added, "I never would have made the friends I've had without Catholic, and we are all still in very close contact. We were young men who never had people in our family go to law school — we were all basically from blue-collar families — and we just hit it off. We had our study groups, we did everything together, and that really helped."
Garza quickly felt; however, that communications law wasn't really his passion. Instead, he found that his constitutional law classes — and the discussions about First Amendment free speech issues — were really of the most interest to him. While he did have a job in the communications law space during his second and third year of law school, he just couldn't see himself staying in Washington, D.C. Then, a conversation with the late Dean Ralph Rohner shifted the trajectory of his career and started him down the path that has taken him to where he is today. "You're either going to be a government lawyer or a professor because that's exactly what you like. It's hard to make money liking constitutional law." Garza knew he wanted to return to Texas after graduation, so he looked for jobs near home. He was fortunate to get an interview with the Dallas City Attorney's Office and received an offer to work for them shortly thereafter.
Garza's early career really relied heavily on his ability to remain flexible while also staying true to the path he wanted. The position he had been hired for was cut before he started, so the City Attorney found him another position in the city's Health and Human Services Department. With the strong work ethic he learned from his father, Garza put his head down and did the job he was given. It was supposed to just be for a few months until they could bring him back to the City Attorney's Office, but instead, he was promoted and appointed director of the program — six months out of law school and he was already running an administrative department for the city.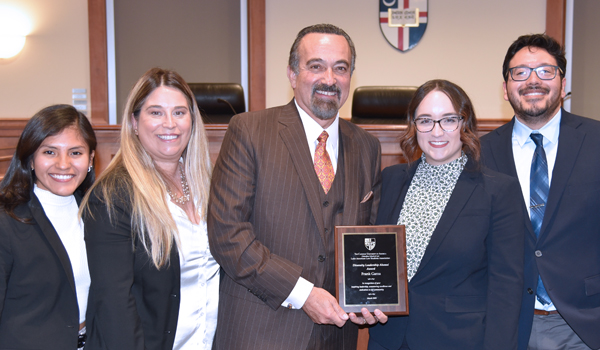 When he began feeling stuck in this administrative role, Garza took active steps to advocate for himself and the career he wanted. He asked the City Attorney's Office for an opportunity for more challenges and was assigned to work on the city's affirmative action plan to bring more gender and racial equity to the police and fire departments. Garza reflected, "I knew I was doing well when we had five lawsuits." During this time, Garza found himself arguing in federal courts and writing briefs to the United States Supreme Court. He shared, "I could not have done that without the Law School's education and my love for constitutional law that I gained during my three years there." Garza's career continued to climb and by the age of 35, he found himself serving as City Attorney for San Antonio, which he did so from 1996 to 2002. While he does on occasion miss the daily challenges that office provided him with, he also deeply loves the work he does now.
Garza has found a second life in his career, representing 11 cities as city attorney and acting as general counsel for 14 other entities. Since becoming general counsel for the Center for Healthcare Services, which has gotten him more involved with health and mental health services for underserved communities, he has gotten completely reinvigorated by the law. "It's a little bit out of my comfort zone, but I've enjoyed it so much because it is out of my comfort zone. I am able to do something new. It has inspired me where I now see myself practicing a few more years than I initially anticipated."
Given the incredible amount of time and dedication Garza gives to his work, one might think it would be all-consuming for him. But, as he has said, family sits atop his list of priorities. As important as it is for Garza to passionately pursue his work, it is equally important for him to give his time and dedication to his family. A family tragedy that involved the loss of his nephew while he was still working in Dallas brought Garza a sense of perspective regarding life and family. As a result, Garza has always made time for his children. "When my kids were young, I coached or was an assistant coach of every one of their teams. I made it to their games. I always made a commitment to my kids" He added, "Besides coaching, I made a commitment that I would be off Saturday or Sunday. I would focus one full day on my family." As Garza's career has advanced, he's gained even more flexibility that he and his family enjoy. He concluded, "You just have to keep things in perspective."