March 04, 2022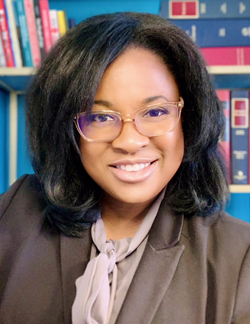 It was announced on March 2, 2022, that Catholic Law alumna Vania Smith '20 has been named the winner of the 2022 Stetson Advocacy Writing Competition Award—a competition open to legal practitioners, judges, professors, and law students. As the winner of the competition, Smith has been invited to present at the annual Educating Advocacy Teachers Conference (EATS) scheduled to take place at Stetson University College of Law from June 13 to 15, 2022. Additionally, Smith will be guaranteed publication in the Stetson Journal of Advocacy and the Law.
Smith's winning article, "Advocacy Competitions or Courtroom Cosplay? The Case for Rejecting Theatrics and Rewarding Authenticity at Law School Mock Trial Competitions," posits that when the pandemic forced trial competitions to move into online formats, many trial advocacy programs at law schools around the country injected theatrics and melodrama into mock trial presentations at the expense of sound advocacy. It explores the potential disservice being done to law students (and eventually the public they will serve as trial lawyers) if mock trial competitions move too far away from modeling, teaching, and rewarding the type of conduct that actually is acceptable in our courtrooms.
Smith is an associate at Friedlander Misler, PLLC in Washington, D.C., and a coach of Catholic Law's
National Mock Trial Team
.