December 05, 2022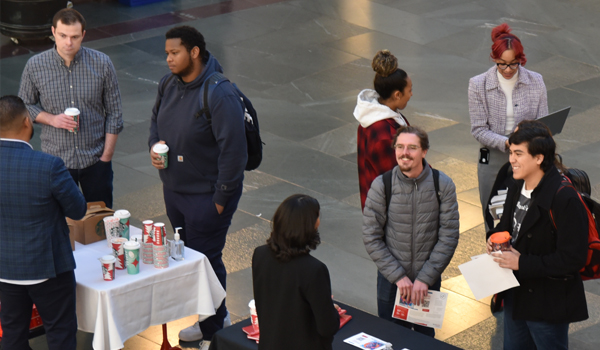 Catholic Law's Office of Career and Professional Development (OCPD) hosted a study break with international law firm Reed Smith on Thursday, December 1, in the law school's atrium. Reed Smith catered coffee and donuts and shared information with students on the firm's 2023 1L Leadership Council on Legal Diversity (LCLD) Summer Associate program. Catholic Law students interested in learning more about the program should visit Symplicity #43353. Reed Smith has been a participant in Catholic Law's late-summer, on-campus-interview (OCI) recruiting program in past years.
Throughout the month of November, OCPD also hosted a series of Employer Spotlights with law firms Akin Gump, Hogan Lovells, K&L Gates, and Steptoe & Johnson. The firms catered casual meals in the law school's Student Lounge, providing an opportunity for Catholic Law alumni attorneys to discuss current and upcoming programs and their firm's culture and practice areas. Participating 1L students gained an opportunity to make connections in advance of the 2023 OCI recruiting season, and to practice important soft skills, such as networking, enthusiasm, and professionalism.
If you are a Catholic Law alumnus and you or your firm or organization would be interested in partnering with the career office on an event to connect with law students, please email jobs@cua.edu.