November 17, 2022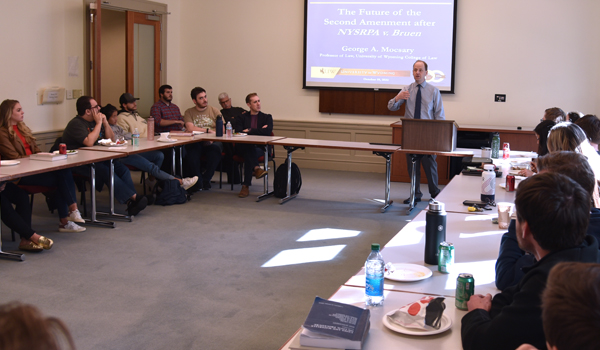 On November 16, 2022, The Catholic University of America Columbus School of Law (Catholic Law) Federalist Society held a discussion on the status of the second amendment. Katherine Williams (3D), president of Catholic Law's Federalist Society, opened the program and introduced Professor George Moscary, University of Wyoming College of Law. Moscary spoke to the group and framed his discussion around the legal landscape after New York State Rifle & Pistol Association v. Bruen. Following his presentation Moscary took questions from the students in attendance.
Professor Mocsary holds a J.D. from Fordham Law School where he graduated first in his class and summa cum laude. He also served as Notes and Articles Editor of the Fordham Law Review and was the recipient of the Benjamin Finkel Prize for Excellence in Bankruptcy and Fordham Law Alumni Association Medal in Constitutional Law. Professor Mocsary earned his M.B.A. from the University of Rochester Simon School of Business and ran a successful management consulting practice.
Professor Mocsary is a co-author of Firearms Law and the Second Amendment: Regulation, Rights, and Policy (3rd ed. 2021), the first casebook on its topic. He has also published in the George Washington Law Review, George Mason Law Review, Fordham Law Review, and other journals. His work has been cited by the Supreme Court of the United States.