November 09, 2022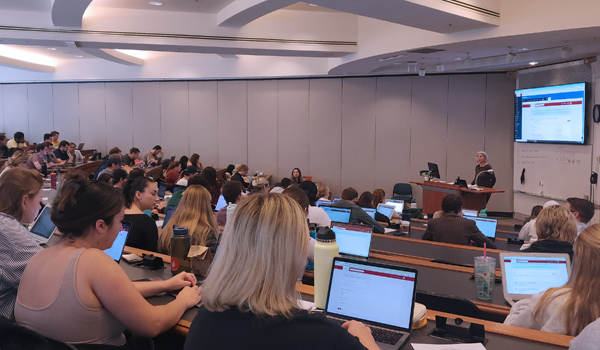 Catholic Law is dedicated to providing students with the skills, knowledge, and experiences necessary for the successful and ethical practice of law. An effective and impactful legal career requires a range of skills that cannot be developed in the classroom alone, and legal employers expect attorneys to have the skills on day one.
In order to help students learn and grow individually, collectively, and professionally, the Student Affairs division, which includes the Office of Career and Professional Development, in collaboration with Academic Affairs, are jointly piloting a new program focused on first year law students entitled Becoming a Legal Professional. Program sessions provide a foundation on the broad scope of legal practice areas and settings, as well as competencies legal professionals must develop beyond subject matter expertise. Students are also asked to assess their individual mission, passions, strengths, interests, and goals in order to enhance well-being and develop a unique, customized career plan.
Catholic Law's Becoming a Legal Professional program provides 1L students with opportunities to develop the critical skills that will enable them to stand out in their legal careers.
The inaugural program provides the following sessions to students:
Lawyer Competencies and the Legal Landscape Today (Friday, October 14, 2022)
Starting the Professional Job Search Process (Friday, November 5, 2022)
Continuing the Professional Job Search Process (Friday, January 13, 2023)
What Comes Next: Recruitment Programs, Mentors, Networking, and Interviewing (Friday, February 17, 2023)
Professional Expectations: Jumpstart Your Summer Experience (Friday, May 12, 2023)
Related News