September 27, 2022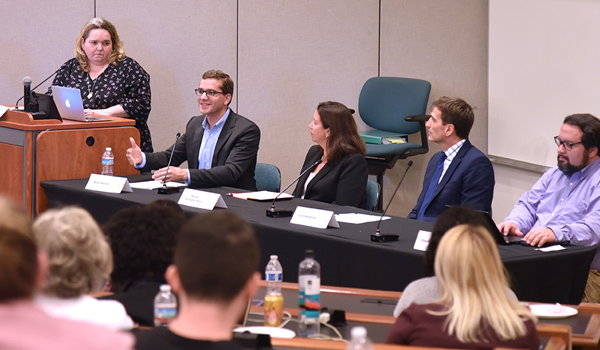 On the evening of September 22, 2022, Catholic Law's Center for Law and the Human Person hosted a panel discussion on the role of infant adoption after the Supreme Court's decision in Dobbs v. Jackson Women's Health Organization, which overruled Roe v. Wade. The program, "The Role of Adoption in a Post-Dobbs America" was held on campus in the William J. Byron S.J. Auditorium.
In her opening remarks, Elizabeth Kirk, director of the Center for Law and the Human Person, shared, "Adoption has long been viewed as "common ground" in the fraught culture wars over abortion and pro-adoption legislation is typically bipartisan. And yet, in the wake of the Dobbs opinion and even in the Dobbs decision itself, domestic infant adoption has become politicized and divisive. To address the complex reasons for this dynamic in light of the present moment, this panel was convened to bring together scholars and adoption experts, to provide a realistic assessment of the state of infant adoption in the United States and especially in women's decision-making in an unexpected pregnancy, and to think about whether and how we, in both culture and law, might promote adoption." 
Following introductions from Kirk, the program's panelists — Charlie Camosy, Professor of Medical Humanities at Creighton University School of Medicine; Ryan Hanlon, President and CEO of the National Council for Adoption; Jedd Medefind, President of Christian Alliance for Orphans; and Naomi Schaefer Riley, Resident Fellow at the American Enterprise Institute — engaged in a moderated discussion led by Kathryn Jean Lopez of the National Review. Panelists covered the paradoxical conceptualization of contemporary adoption in American culture and the role that communities of faith and the medical community can play in shifting perception. Sarah Zagorski, Communications Director and Adoption Education Director of Louisiana Right to Life, joined the panel to address questions about how Louisiana has modeled pro-adoption legislation and programs.
Earlier in the day, the panelists, joined by other adoption scholars and practitioners, met as a working group to discuss the reality that for every one infant placed for adoption, 50 are aborted. This wildly disproportionate ratio reveals that most women facing an unplanned pregnancy do not consider adoption as a meaningful option. The working group addressed the state of social science data illuminating this problem, as well as how to advance adoption in culture, law, and policy.
This event was supported by a generous contribution from The Opt Institute. A recording of the program is available here.
The Center for Law and the Human Person looks forward to continuing this and other important conversations with future events. To learn more about the event, visit the Center's Upcoming Events page.