September 16, 2022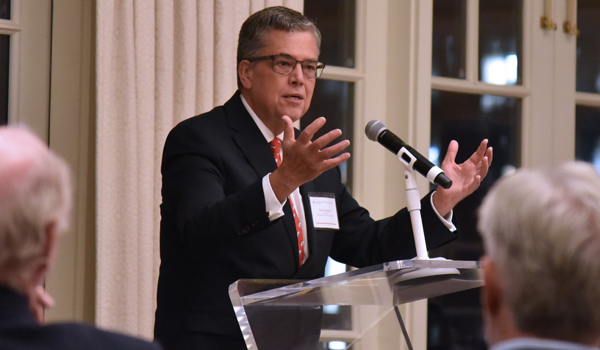 Initiated by the Law School's Board of Visitors in 2013, the Dean's Dinner has become an important tradition at Catholic Law as a means of raising scholarship donations for students. Held at The Hay Adams Hotel in Washington, D.C., the dinner and reception featured special guest speaker Dr. Peter Kilpatrick, President of The Catholic University of America. This year's Dean's Dinner guests included members of the Law School's Board of Visitors; members of the Law School's Alumni Council; and law school alumni. In addition, select faculty members and students were sponsored to attend.
Dr. Kilpatrick is a scholar — he is widely published and holds or shares 12 patents in chemical engineering — and an experienced higher education leader and administrator. He began his career at North Carolina State University. In 2008 he was recruited by the University of Notre Dame to be dean of engineering. Combining research and faith is important to Kilpatrick, who became Catholic as an adult. Since 2018, he has been provost and vice president for academic affairs for the Illinois Institute of Technology, an institution dedicated to lifting up people of all backgrounds. Dr. Kilpatrick received his undergraduate degree from Occidental College and his doctorate in chemical engineering from the University of Minnesota.
Douglas G. Bonner III '83, chair of the Board of Visitors and Partner at Potomac Law, delivered welcoming remarks, and Reverend Teodosio "Teo" Brea, Associate Chaplain, offered the invocation.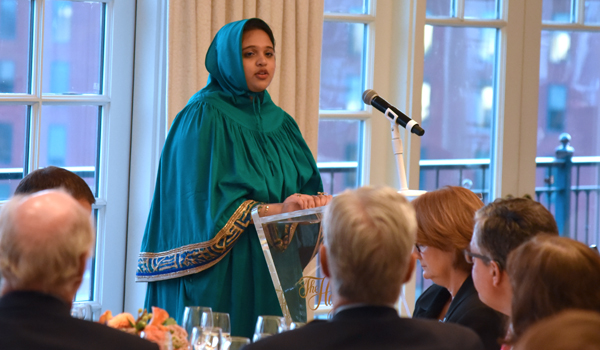 In addition to Dr. Kilpatrick's keynote address, third-year law student Mariyah S. Wakhariya delivered remarks as the evening's student speaker. Wakhariya spoke about her decision to attend Catholic Law and her deep appreciation for the generosity of the Law School community. She shared, "I am profoundly grateful to have received a Dean's Merit Scholarship these past three years. Your generosity, your magnanimity, your vision for continuing the Catholic intellectual tradition, makes Catholic Law a true community. It shines a light on the wise words of our Syedna to my father, "if you study law, you will be able to serve the community." By your generosity, you all are serving the community, and your generosity helps to create lawyers like me who will continue to serve."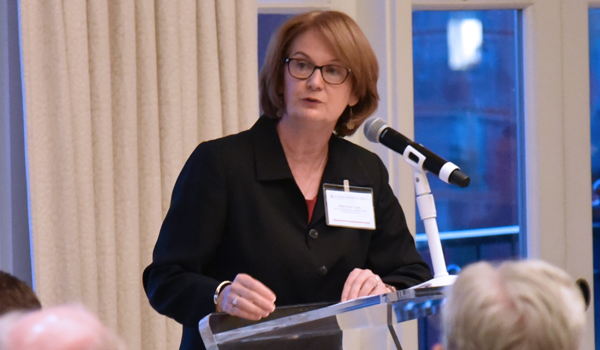 In her closing remarks, Mary Graw Leary, Senior Associate Dean for Academic Affairs, once again emphasized the importance of scholarships to Catholic Law and its students and thanked all of the donors for positively contributing to students' futures with their gifts. Scholarships make a huge impact on their recipients, making Catholic Law more affordable and accessible to students. Please click here to learn more about scholarships at Catholic Law. To view photos from the event, click here.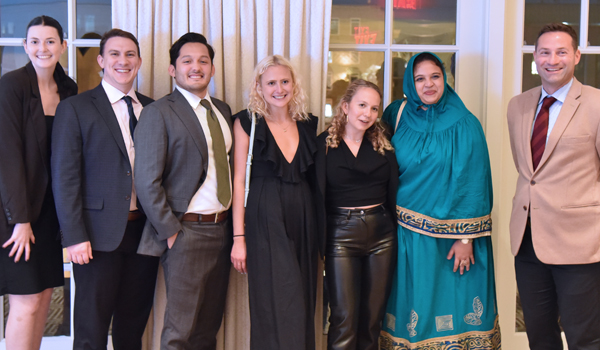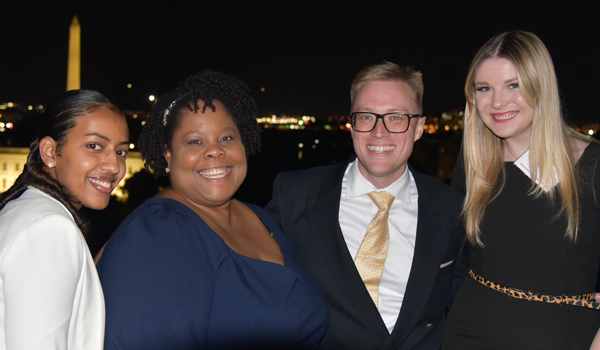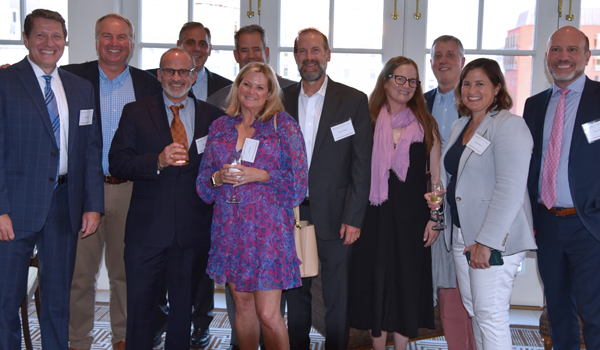 The following alumni and friends contributed to the success of this event:
Platinum Level - $10,000
Michael F. Curtin, 1965
John A. Zaccaro Jr., 1993
Gold Level - $5,000
Douglas G. Bonner III, 1983
Lee Carosi Dunn, 2001
Silver Level - $1,000
Jude M. Antonyappan, 2020
J. Caleb Boggs III, 1987
Phyllis C. Borzi, 1978
Joseph Peter Drennan, 1981
Arthur N. Fuccillo, 1978
James E. McDonald, 1969
Vincent R. Olivieri, 1971
Nancy M. Palermo, 1997
Mark A. Reinhardt, 1971
Patrick Michael Regan, 1980
John M. Skenyon, 1973
Guest - $500
Phillip D. Brady
Machalagh Carr, 2005
Mark D. Cowan, 1977
Clifford S. Fishman
J. Parker Griffin III, 2008
John E. Higgins
Clarence E. Martin III, 1974
John E. McCarthy Jr., 1989
Alyson M. Oswald, 2005
Joseph Saka, 2007
Megan A. Stull, 2003
Jimmy R. Moye, 1999
Student & Faculty Sponsor - $500
Thomas J. Bender Jr., 1977
Donald W. Farley, 1969 and Jo Ann D. Farley
Nessa E. Feddis, 1983
R.Todd Luoma, 1983
Bruce R. Parker, 1978
Jeffrey S. Puretz, 1981 and Teresa Puretz
Reed L. Russell, 1999
Martin Weissman, 1964
*The above list is in recognition of gifts received by September 13, 2022