April 12, 2022
On April 7, 2022, The Catholic University of America Columbus School of Law (Catholic Law) — in collaboration with Paul Hastings LLP — hosted government officials, business people, lawyers, scholars, and representatives of faith traditions to explore human rights issues in global supply chains. The conference, Business Accountability For Human Rights: Addressing Human Rights Issues in Global Supply Chains, was coordinated by Professor Sarah H. Duggin, Director of the Compliance, Investigations, and Corporate Responsibility Program (CICR), as well as Tara Giunta '86 and Renata Parras of Paul Hastings LLP.
The day-long conference (with both in-person and virtual guests) was the culmination of a series of webinars that began in the fall of 2020 with a program on the impact of the COVID-19 pandemic on workers in global supply chains. Subsequent webinars focused on a variety of topics including business initiatives to address human rights issues, the corporate responsibility of small businesses, faith perspectives on business and human rights, and visions for how the public and private sectors can work together to end labor exploitation. Building on the foundation of the previous programming, the conference was designed to strengthen the collective efforts to disrupt human rights abuses in global supply chains through speakers, panels, and paper presentations.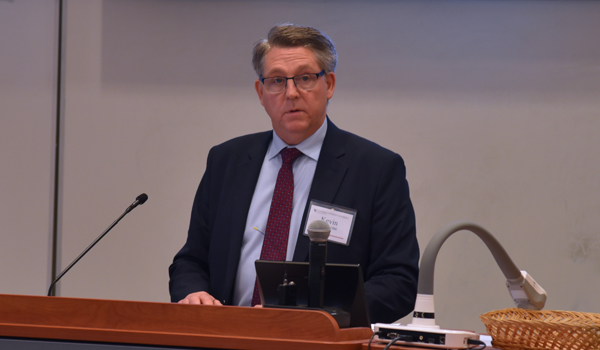 On the morning of the conference, the Law School welcomed participants to the Louise H. Keelty and James Keelty, Jr. Atrium. Dean Stephen Payne opened the proceedings, and Professor Duggin provided a brief overview of the conference. Catholic Law alumna Carmita Hedman-Sequeira '21 then introduced keynote speaker The Honorable Kevin Hyland, O.B.E. Hyland is a globally recognized expert on modern-day slavery and forced labor with 30 years of experience in law enforcement. Hyland was the United Kingdom's first Independent Anti-slavery Commissioner and currently chairs the Institute of Human Rights and Business Responsible Recruitment Group; he is also a member of the Council of Europe's Group of Experts on Action Against Trafficking in Human Beings and an advisor to governments, the Vatican, international organizations, and NGOs. In his address, Hyland spoke about the work that still needs to be done to end human trafficking and modern-day slavery. He explained that despite international conventions, commitments, action plans, and policies, best practices developed through years of experience are still too often ignored. Hyland called for a proactive approach to ending exploitation and emphasized that governments must make trafficking and modern-day slavery crimes that are too costly to commit. He concluded, "It is well overdue for nations to deliver through regulations and accountability." (Click here to view the Welcome and Keynote Address on the Catholic Law YouTube Channel or click here to view a PDF of The Honorable Kevin Hyland's keynote address.)
The remainder of the day included five moderated panel discussions and a paper presentation.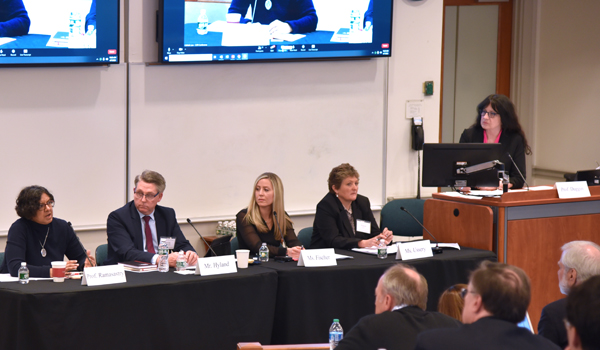 Panel 1: Challenges of Eradicating Human Rights Abuses in Global Supply Chains
The first panel explored issues pertaining to the persistence of human rights abuses, particularly labor exploitation, in connection with the production of goods and services throughout the world.
Moderator: Professor Sarah Duggin, Director of CICR, The Catholic University of America Columbus School of Law
Panelists: The Hon. Kevin Hyland, O.B.E., Advisor to the Council of Europe; Heather Fischer, Senior Advisor for Human Rights Crimes, Thomson Reuters Special Services; Anita Ramasastry, Henry M. Jackson Professor of Law and Director of the Sustainable International Development Program, University of Washington School of Law; and Allisson Ussery, European Freedom Network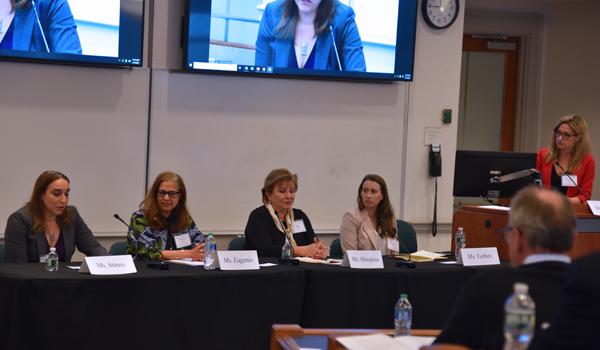 Panel 2: Recent U.S. Government Laws and Policies to Advance Business and Human Rights
The U.S. and other governments support the efforts of businesses to respect human rights and strive to protect against human rights abuses, including those involving business enterprises. The panel explored human rights investigations and governmental tools to advance business and human rights
Moderator: Renata Parras, Environmental, Social, and Governance Counsel and Global Pro Bono Counsel, Paul Hastings, LLP
Panelists: Marcia Eugenio, Director of the Office of Child Labor, Forced Labor, and Human Trafficking, U.S. Department of Labor; Theresa Forbes, Senior Policy Advisor in the Office of Terrorist Financing and Financial Crimes, U.S. Treasury; Ana Hinojosa, Former Executive Director for Trade Remedy, U.S. Customs & Border Protection; and Karen Stauss, Senior Policy Counsel, U.S. Department of Justice Human Trafficking Prosecution Unit
Before the start of the afternoon sessions and the working lunch, attendees were joined remotely by Cardinal Vincent Nichols, Archbishop of Westminster, President of the United Kingdom's Roman Catholic Bishops Conference, and President of the Santa Marta Group, a growing global alliance of the church and law enforcement officials. Cardinal Nichols is deeply immersed in the battle against modern-day slavery. He has called upon the Church and people of good faith everywhere to serve as a network for good in the fight against the evils of forced labor and human trafficking. Cardinal Nichols led Grace and provided a blessing for the conference.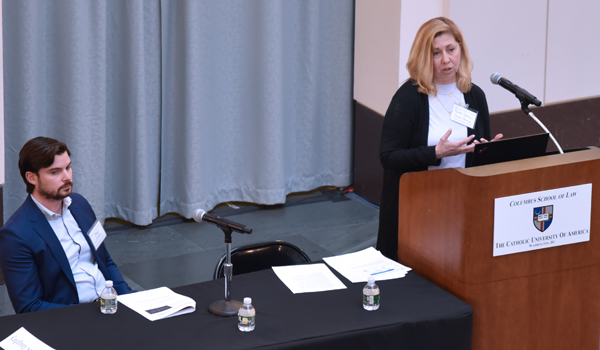 Panel 3: The Role of Data in Addressing Risks Perspectives from the Intelligence/ Data Community
In the course of this panel, Thomson Reuters Special Services LLC provided a presentation on data collection and analysis tools. 
Panelists: Karen Lobdell, Director of Product Management, LCB, Thomson Reuters, and Paul McClaughry, Principal Analyst, Thomson Reuters Special Services LLC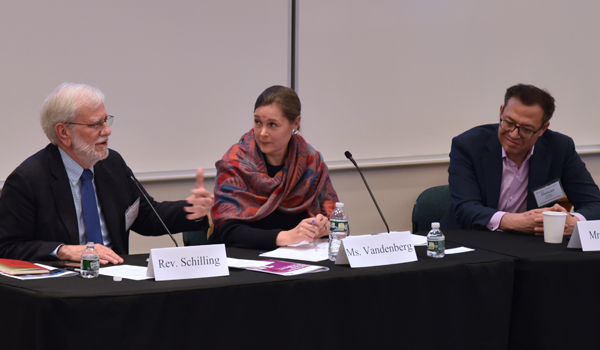 Panel 4: Human Rights Challenges in Global Supply Chains and Implications of Indirect Sourcing Practices
The fourth panel explored the human rights implications of indirect sourcing practices; assessed the current sourcing practices in different industries; and discussed how the practices create systemic human rights risks, potential liability, and examined ways to address these challenges. (Click here to view this panel on the Catholic Law YouTube Channel.)
Moderator: Mary Graw Leary, Senior Associate Dean for Academic Affairs and Professor of Law, Columbus School of Law
Panelists: Duncan Jepson, Founder and Managing Director, Liberty Shared; The Rev. David Schilling, Senior Program Director - Human Rights & Resources, Interfaith Center on Corporate Responsibility; and Martina Vandenberg, Founder and President, Human Trafficking Legal Center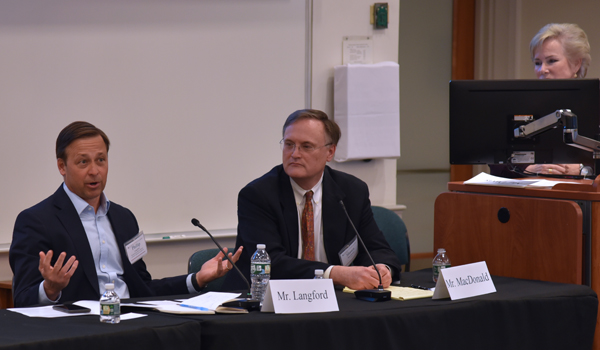 Panel 5: Business and Human Rights Initiatives — A Multi-Stakeholder Approach
The final panel focused on initiatives by businesses, constituents, and stakeholders to address responsible sourcing, finance, and other aspects of human rights in global supply chains. (Click here to view this panel on the Catholic Law YouTube Channel.)
Moderator: Tara Giunta '86, Partner & Vice-Chair of Global Investigations and Co-lead of ESG Risk, Strategy, and Compliance Practice Group, Paul Hastings, LLP
Panelists: Stuart Davis, Executive Vice President and Group Chief Anti-Money Laundering Officer, Scotiabank; Justyna Gudzowska, Director of Illicit Finance Policy, The Sentry; Philip Langford, President, International Justice Mission; and Shawn MacDonald, Chief Executive Officer, Verité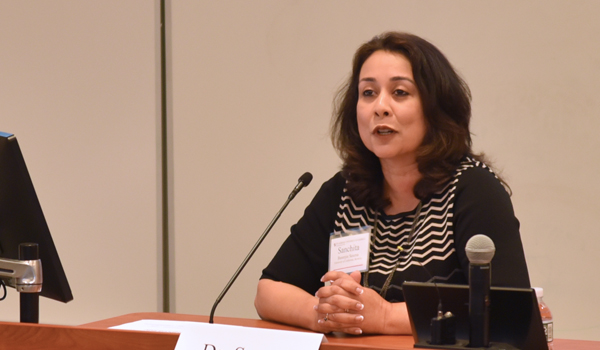 Paper Presentation: "COVID-19 as the Tipping Point? Transforming Business Models in the Global Garment Industry"
After an introduction given by Catholic Law Professor Lucia Silecchia, Director of the Summer Law Program on International Human Rights in Rome, Italy, Saxena gave a 20-minute presentation of her paper. Her work examines the impact of COVID-19 on the garment industry. Click here to view a PDF of her PowerPoint presentation. (Click here to view the presentation on the Catholic Law YouTube Channel.)
Presenter: Sanchita Banerjee Saxena, Executive Director of the Institute for South Asia Studies and Director of the Subir and Malini Chowdhury Center for Bangladesh Studies, University of California, Berkeley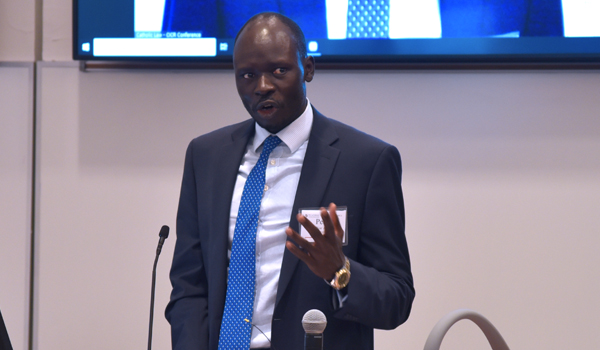 Following the full day of panels and paper presentations, Dr. Peter Biar Ajak acted as the closing speaker. Ajak is a prominent civil society leader, political dissident, and scholar from South Sudan. He is the founder of the Juba-based Center for Strategic Analyses and Research, chair of the South Sudan Young Leaders Forum, and Senior Advisor to the International Growth Centre, an economic research center based at the London School of Economics. Ajak has served as an economist with the World Bank and as coordinator of policy and strategy in the Office of the Minister of National Security in the Office of the President of South Sudan. He is an outspoken advocate for free and fair elections who was imprisoned in South Sudan as a result of his work for free democratic elections. Ajak spoke about his experiences in Sudan and more sustainable ways of eradicating abuses in global supply chains. Ajak closed with an impassioned call for strengthened democracy, "The only way that we can ultimately eradicate these kinds of abuses from anywhere in the world is by promoting democracy." (Click here to view the Closing Remarks on the Catholic Law YouTube Channel.)
To conclude the conference, Giunta offered final remarks. She gave a special thanks to Catholic Law for partnering with Paul Hastings LLP to put on the conference, as well as to each of the panelists and attendees for their time. Those attending the conference in person were then invited to Keelty Atrium for a reception.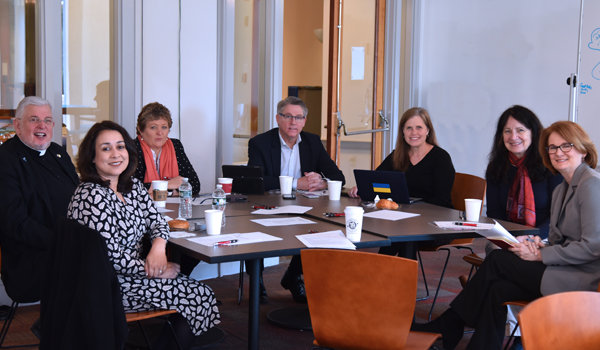 On Friday, April 8, a group of speakers also engaged in a Design Thinking exercise. The group discussed different paths for going forward and ideas for continuing the work of the conference.