March 04, 2022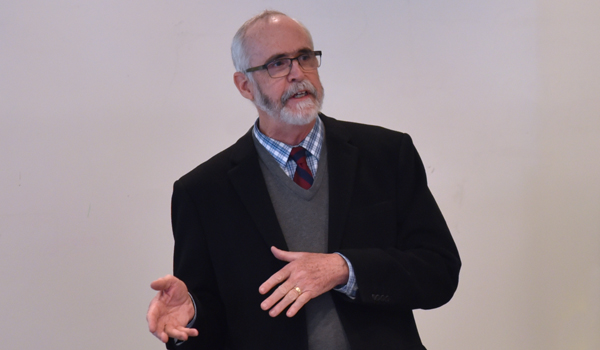 On March 3, 2022, the Catholic Law community gathered for the second program in the lecture series organized by the Law and the Human Person examining The Future of Roe v. Wade? Dobbs v. Jackson Women's Health Organization. The afternoon program entitled, "Abortion and the Meaning of Life: Some Anthropological Implications of the Viability Standard," featured David Crawford, J.D., S.T.D., Dean and Associate Professor of Moral Theology and Family Law at Pontifical John Paul II Institute for Studies on Marriage & Family, who discussed the anthropological implications of the Dobbs v. Jackson case. Crawford teaches and writes in the areas of fundamental moral theology, bio- and sexual ethics, marriage and family, and law.
Elizabeth Kirk, Director of the Center for Law and the Human Person, provided introductory remarks about The Center and the lecture series. Questions about what the Supreme Court might decide in Dobbs v. Jackson, the reasonings it might employ, and the possible variations on how it might rule all sit at the heart of the series. Kirk then turned the program over to Crawford for his remarks which were made through a philosophical and anthropological lens. At the center of Crawford's comments was the question of viability — what is viability and what is the basis of the "viability standard" in abortion rights and legislation. Crawford used three cases — Byrn v. New York City Health & Hospital Corp. (1972), Roe v. Wade (1973), and Planned Parenthood v. Casey (1992) — to explore the viability standard, the definition of personhood, and the role of independence in the definitions of each. As the program drew to a close, Crawford took questions from those in attendance.
The Center for Law and the Human Person looks forward to continuing this lecture series. The final program will be held on April 5, 2022, at 12:30 p.m., in the Law School, room 211. Guest speaker Helen Alvaré, Robert A. Levy Endowed Chair in Law and Liberty at George Mason University - Antonin Scalia Law School, will present, "It's More Complicated Than You Think: Abortion and Women's Freedom." That event will be live-streamed for those unable to attend in person. Please check back on the News and Events page for updates regarding upcoming events.
Below is a recording of the March 3 event.