February 24, 2022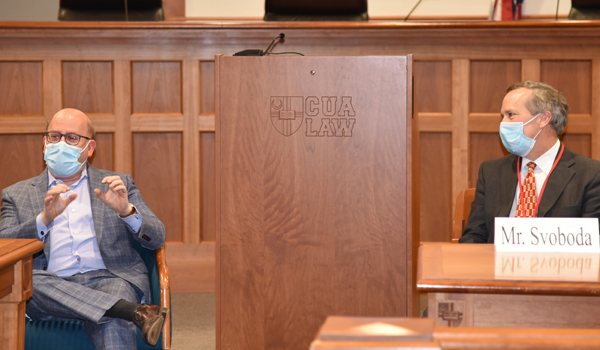 Catholic Law's Law and Public Policy Program (LPP) enthusiastically hosted the first in-person event of its Law and Public Policy Lecture Series on Tuesday, February 22, 2022. The evening program, "In the Arena: Political Law & Crisis Management," welcomed guest speaker Rob Kelner, Partner at Covington & Burling LLP and Chair of the Election and Political Law Practice Group. Kelner's political law practice covers investigations, federal and state campaign finance, lobbying disclosure, pay to play, and government ethics laws.
Brian Svoboda opened the event in Slowinski Courtroom with a welcome to those in attendance and introductory remarks. In the hour-long conversation, Kelner responded to a series of moderated questions posed by Svoboda. They discussed the arc of Kelner's professional career, his early interest in politics, managing risk and stress in political law practice, the qualities Kelner looks for in an associate, and Kelner's thoughts on certain political regulation statutes. The program concluded with questions from the audience and was followed by a reception in the atrium.
The Law and Public Policy Program is looking forward to continuing the lecture series in March 2022. Please check back on the News and Events page for updates regarding upcoming events. Those interested in learning more about the program may contact Brian Svoboda at svoboda@cua.edu.