February 03, 2022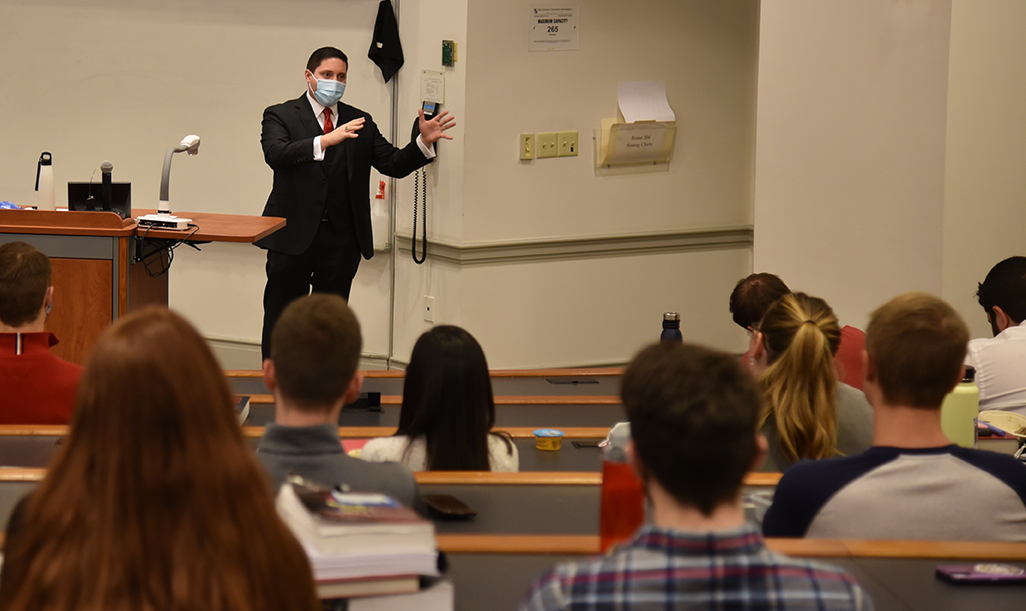 On February 2, 2022, the Center for Law and the Human Person sponsored the first in a series of three lectures examining the legal, philosophical, and social dimensions of The Future of Roe v. Wade? Dobbs v. Jackson Women's Health Organization. The lunchtime program, "Dobbs and the Future of Constitutional Interpretation," welcomed Catholic Law's J. Joel Alicea, Assistant Professor of Law and Director of the Project on Constitutional Originalism and the Catholic Intellectual Tradition, to discuss the legal implications of the Dobbs v. Jackson case. Alicea's expertise lies in the areas of constitutional law and civil litigation and his scholarship focuses in particular on American constitutional theory.
Elizabeth Kirk, Director of the Center for Law and the Human Person, provided introductory remarks about The Center and the lecture series before turning the program over to Alicea. Alicea began with a brief overview of Dobbs v. Jackson before shifting his focus to the effect the Dobbs decision could have on constitutional interpretation in America. He broke down the discussion into three parts—what the cases Roe v. Wade and Planned Parenthood v. Casey say and how Dobbs interacts with those prior decisions, living constitutionalism versus originalism in American constitutional interpretation, and the impact of Dobbs on the future of constitutional interpretation. Alicea concluded, "The stakes here are quite high. Not just for the future of abortion in America, which is obviously important enough, but for the future of constitutional theory." As the program drew to a close, Alicea took questions from those in attendance.
The Center for Law and the Human Person looks forward to continuing this lecture series. The next program will be held on March 3, 2022, at 12:30 p.m., in the Law School, room 213. Guest speaker David Crawford, Dean and Associate Professor of Moral Theology and Family Law at Pontifical John Paul II Institute, will present, "Abortion and the Meaning of Life: Some Anthropological Implications of the Viability Standard." Please check back on the News and Events page for updates regarding upcoming events.