April 09, 2021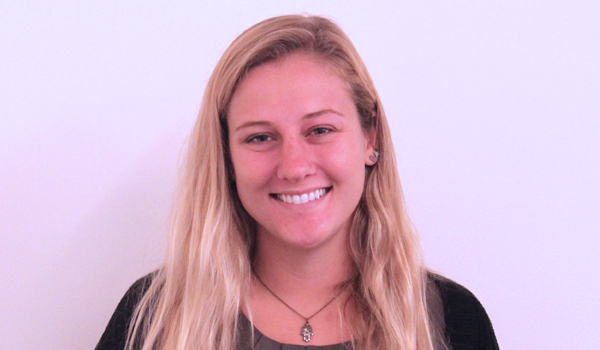 Located in the Northeast quadrant of Washington, D.C., Catholic Law provides its students with the small-school community feel while still providing allowing for easy access to the nation's legal epicenter. For Catholic Law third-year, and native Washingtonian, Kathleen Mauck, growing up in the nation's capital fueled her early interest in politics and law. With graduation looming on the horizon, Mauck took a moment to reflect on her time at Catholic Law.
After graduating from the University of South Carolina with a double major in Spanish and Political Science, Mauck knew that law school was the next step for her. She shared, "I decided to go to law school because I wanted a career where I could help others, while also being challenged on a daily basis." Enticed by Catholic Law's tight-knit community and access to the city, Mauck returned to her hometown, eager to learn more about the law. Encouraged by her double degree in undergrad, Mauck chose to pursue a certificate in Comparative & International Law in addition to her J.D. She explained, "[It] inspired me to find an area of law that would allow me to use the skills I learned through these degrees." The Comparative and International Law Institute (CILI) is designed to give students the opportunity to pursue a concentration of courses in the public and private areas of international law through a more specified and focused curriculum.
Since joining the Catholic Law community in the fall of 2018, Mauck has taken advantage of countless opportunities on- and off-campus to make the most of her law school years. Currently, Mauck serves as President of Catholic Law's chapter of the Phi Alpha Delta Law Fraternity. As an internationally recognized fraternity—which boasts a membership including the likes of President Joseph Biden and the late Supreme Court Justice Ruth Bader Ginsberg—the organization provides its members with invaluable networking opportunities. Mauck is also a member of the Women's Law Caucus which focuses on raising awareness of women's legal and political issues and developing the advancement of women in their professional and legal careers.
Mauck has also taken advantage of hands-on experiences that have complimented her areas of interest and provided her with practical training for a legal career after graduation. Mauck outlined her progression through multiple internships and volunteer positions over the course of her time at Catholic Law. Her first internship was during her 1L summer, working for the Honorable Judge Hessler in the Montgomery County Circuit Court. This position allowed Mauck to tap into her interest in family law, which made up the bulk of Judge Hessler's docket. Mauck explained, " I have always had an interest in Family Law even before I started law school, which is why I wanted to work with Judge Hessler because he served on the Family Law docket. I worked mostly with Children In Need of Assistance (CINA) cases, which is the Maryland program that deals with the legal issues surrounding foster care cases."
During her second year of law school, Mauck focused more on utilizing her background in Spanish and international law to make an impact. During the spring of 2020, Mauck worked at Columbus Community Legal Services (CCLS) in the Immigration and Refugee Advocacy Clinic (IRAC). Mauck described her experience, "During this time, we worked to represent clients in both Immigration proceedings and D.C. Superior Court family law proceedings." During that same semester, Mauck also opted to participate in an alternative spring break trip and traveled to the New Mexico/ Mexico border to work on immigration cases with Catholic Charities of Southern New Mexico. She shared, "The immigration legal services at the border are always inundated with clients, so providing them with pro bono support was highly appreciated by their overworked lawyers." To date, Mauck has earned over 500 pro bono hours throughout her law school career.
Last summer, Mauck had the opportunity to work for the Julia M. Toro Law Firm. Mauck's experience working for the all-women firm not only taught her more about the United States' immigration system but also set a wonderful example of strong women creating career opportunities and maintaining a successful business. Through the numerous internships and pro bono efforts Mauch has participated in, she has further solidified her goal to work for an immigration firm after law school.
Mauck has created a full, robust law school experience for herself throughout her time at the Law School, but, of course, it has not been without challenges. The COVID-19 pandemic has required adaptation from students, from universities, and even from the courts. Mauck reflected, "The first time I argued in front of a judge, the pandemic had begun a week before. Adapting to making a solid, concise argument for my client while the judge was barely listening, and everyone in the room was overwhelmed with the impending doom we knew was coming, was one of the hardest things I have ever done. However, we were able to still make some successful arguments for our client's immigration proceedings." Mauck has also seen the pandemic as a time to learn about herself. She shared, "COVID has taught me that I am much more capable of adapting to what life throws at me than I thought."
Ultimately, Mauck is grateful for her time at the Law School, and with her time drawing to an end, she eagerly looks forward to pursuing her passions in a fulfilling legal career.