November 24, 2020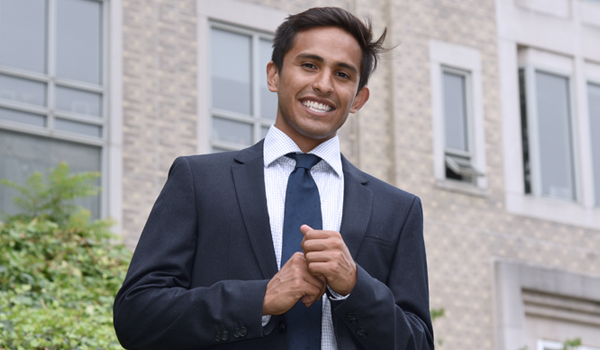 Catholic Law brings together an able and diverse student body. Each student brings with them a wide variety of experiences that, when paired with an exceptional legal education, allows them to leave law school prepared for careers in the law—motivated to serve their clients and their communities with intelligence and integrity. Each day, Nicolas Valderrama '21 applied the accountability and work ethic he derived from his time as a collegiate-level squash player to his work as a law student at Catholic Law.
Valderrama was born and raised in Bogota, Colombia. In 2013 he became the first of his family to pursue a college education in the United States—attending George Washington University through an athletic scholarship for the Varsity Men's Squash Team. Prior to college, he thought that being a lawyer sounded interesting, but he admitted that he didn't know much about the profession. He noted, "to find out more about what a legal career entailed, I pursued a minor in Law & Society during college—in addition to my major in Economics—which was the closest there was to pre-law." As he took more and more courses pertaining to the legal field, Valderrama began to realize just how nuanced the law could be. It was then that he decided that he would go to law school.
For a year between undergrad and going to law school, Valderrama worked as Operations Director as part of a three-person management team for a small sports management company in D.C. He pointed out, "as a recent college graduate, this was a tremendous learning opportunity. It allowed me to get invaluable business experience, sharpen my leadership skills, and learn how to be adaptable and to collaborate effectively in a team environment." The work experience helped Valderrama hone invaluable skills, but law school was still the goal. "I then decided to attend law school with the goal of getting a better understanding of how the law is shaped and how the legal system works. I wanted to help others navigate the legal system and address their most complex legal issues and hoped to explore an area of law related to business or economics, the subjects I was most interested in."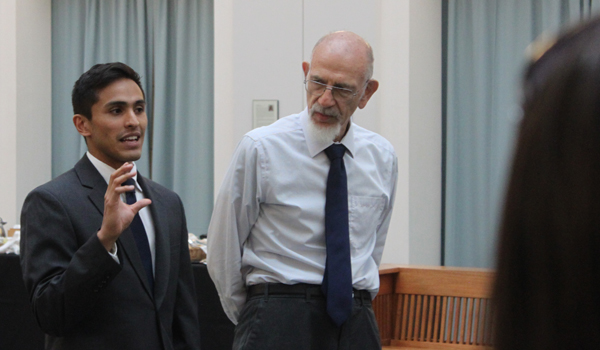 Valderrama began searching for law schools in the D.C. area. With its location, prestigious Securities Law Program, and mission for service, Catholic Law seemed to check the boxes for him. Within the first week, Valderrama realized he had made the right decision in attending Catholic Law. "That week it became clear that my family and I faced serious financial difficulties, so I sought help from the Admissions Office, the Dean of Students, and OCPD among others. The people in these offices greeted me with open arms and did everything possible to help—pointing out resources that I could tap into and helping me get the two on-campus jobs that allowed me to cover my living expenses." He continued, "It was the kindness, diligence, and support of the people in the Law School administration that gave me a taste of the type of community that the Law School had to offer. At that point, I realized that I wanted to be part of the Catholic Law community and started trying to find ways to give back for all the help I was receiving."
Since that first week, Valderrama has found numerous ways to get involved in the community and give back—taking advantage of both on- and off-campus opportunities. This year Valderrama is Editor of the Catholic University Law Review, Vice President for the Securities Law Student Association, President of the Latin American Law Student Association, and Class Representative on the Pro Bono Advisory Board. He also works as a Research Assistant for Professor Emeritus Leah Wortham. In each of these campus roles, he works to serve his peers and be a resource for as many students as possible.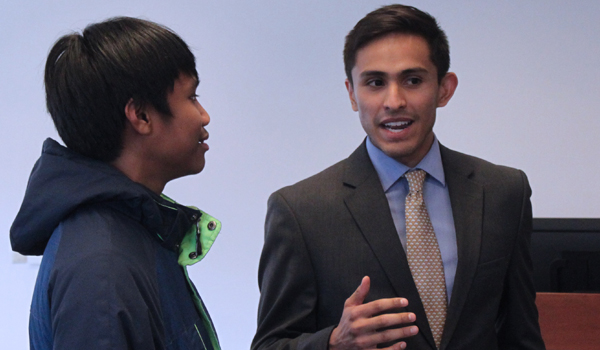 Valderrama has also found time to pursue practical learning experiences throughout his time at Catholic Law. As early as the summer after his 1L year, Valderrama was serving the community. "My first law-related position was as a Certified Student Attorney with the Low Income Taxpayer Clinic at Columbus Community Legal Services (CCLS). I had a very rewarding experience analyzing clients' federal tax issues, researching IRS guidelines, drafting memorandums, and counseling clients in terms of the remedies available." From this experience, Valderrama also went on to serve three of the four CCLS clinical programs as a Spanish translator during his entire 2L year.
Moreover, in the second semester of that year, he was selected as a Legal Intern for the Front Office of the World Bank Legal Vice Presidency which allowed him to learn from highly experienced attorneys and work on projects directly related to Colombia. Since May, he has been working as a legal intern for Investment Company Institute (ICI), a trade association for investment companies. "I have thoroughly enjoyed my time at ICI, as I get to explore the field of investment management while applying some of what I've learned in my securities courses. I would love to continue building my career in this legal field after law school."
While Valderrama was able to secure his ICI internship, last spring was also marked by a swirl of uncertainty as the Law School and the world reacted to the COVID-19 pandemic. He noted, "I have learned to be grateful for what I have and to put things in perspective. It's easy to get caught up in and complain about the day-to-day semi-monotone routine of going to school online and working online, and frankly, it was hard to adapt when the pandemic started. Likewise, as an international student, it's also hard knowing that this will be the first time that I won't be able to see my family during the holidays or that I'll have to go more than a year without seeing them since it's not practicable for either of us to travel."
Nevertheless, Valderrama concluded it's really important to maintain an awareness of what others are experiencing during the pandemic. "Putting things in perspective has made me realize that it's important to be thankful for the little things I have today, to show gratitude for the help I have received and to try to help others in return, to value the time I can spend with my loved ones, and to keep a positive attitude despite some of the negative things happening these days."