November 17, 2020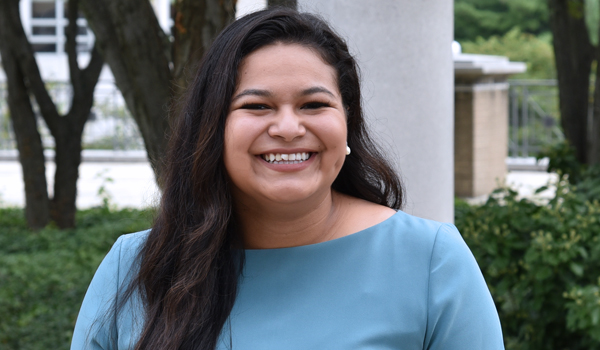 Catholic Law students are known to excel in a variety of ways. They earn fellowships, externships, and scholarships. Some publish articles in law journals or participate in Moot Court or Trial Team. Prior to her graduation in May 2021, then third-year law student Aimee Solano discussed her time at Catholic Law. Solano did as much as her schedule allowed her to, creating a robust law school experience for herself while contributing positively to the community of which she is a part.
From the time Solano was in high school, she knew that she wanted to go to law school—ever since she had taken the opportunity to be a part of her school's Mock Trial team. "I loved the idea of oral and written advocacy for the marginalized and felt empowered in a court-room setting." As her passion for trial advocacy continued to build, Solano took advantage of other opportunities to hone her skills. In college, at Mount St. Mary's University, Solano not only studied political science and philosophy, but she became active once again in Mock Trial, eventually becoming the team's captain. After that, it was off to law school. "As a second-generation Mexican-American and the first person in my family to attend law school I am motivated by the sacrifice of my family before me, and hope to contribute to diversifying our field."
Originally from Southern California, Aimee has found a home on the east coast. Catholic Law—which is often lauded for its supportive community—has become that home. "The community at Catholic Law is unlike any other. I have never felt more at home in a place. The people who make up our community are so genuinely caring and supportive that I can't imagine going through law school without such a robust support system. The small class sizes contribute to a tight-knit community, especially your first year when you share all of your classes with your cohort." The school's mission—rooted in Catholic social teaching —also aligned with Solano's passion for advocating for vulnerable and marginalized communities.
Solano has found numerous ways to get involved in the community and has taken advantage of both on- and off-campus opportunities. Not only does Solano participate in several co-curricular activities, but she also holds leadership positions in most of them. Solano is Associate Editor for Law Review, a second-year competitor and VP for Recruitment for the Moot Court Association, President of the Street Law Program, Director of Communications of the Student Bar Association., and is involved with the Latin American Law Students Association (LALSA). Additionally, she has "also had the opportunity to work as a Teaching Assistant for the first-year writing course and as a Dean's Fellow."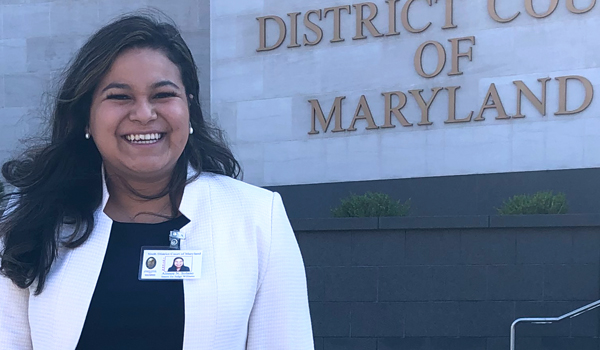 Solano has also found that Washington, D.C., is an ideal place to study law. With the campus within easy reach of an abundance of externship opportunities, Solano has taken advantage of practical experiences that span across areas of law. She shared, "I had the opportunity to work for two judges, a government agency, and two law firms during my tenure at Catholic." Following her first year at Catholic Law, Solano was selected through the American Bar Association's Judicial Internship Opportunity Program (JIOP) to work for the Honorable Zuberi Williams in the District Court of Maryland for Montgomery County. "Working for Judge Williams was a wonderful experience and I learned a lot about the day-to-day court life at the state level. Judge Williams sat on a mixed docket (meaning both civil and criminal cases), so I was very fortunate to have exposure to a wide array of fast-paced litigation." In the fall of her 2L year, she continued to learn more about the judiciary—this time working in the United States District Court for the District of Columbia for the Honorable Amy Berman Jackson. This new position allowed her to gain "invaluable insight into the inner workings of the federal judiciary." She continued, "Both state and federal court judicial internships are amazing experiences and I would highly encourage students to experience both."
In the spring of 2020, Solano took the opportunity to learn about how government agencies operate, working as an intern at the Institute of Museum and Library Services (IMLS). Unfortunately, March gave way to the COVID-19 pandemic, and her time at IMLS was cut short. While universities and students across the country, and around the world, worked to create alternative educational opportunities, Solano used the time to reflect on herself and her law school experience, ultimately coming away from the time have learned "the importance of leaning into uncertainty and taking time for yourself."
Despite the brief pause in plans, Solano quickly adjusted and continued to find new opportunities to learn and grow in different areas of the law. In the summer, she worked for EPGD Business Law, a firm that handles corporate litigation and corporate law. In her role, Solano was able to work on estate planning, franchise, and business litigation—gaining valuable experience in corporate law. Now, as her final year at Catholic Law is well underway, Solano is currently working for Kelly Guzzo, PLC, working in Consumer Protection—including predatory loans and improper credit reporting practices. Solano explained, "At Kelly Guzzo, I have the opportunity to work on large class-action cases being litigated around the country as well as some pro bono work. I have truly enjoyed all of my internship and work experience." Solano reflected on the importance that these opportunities have had on her preparation for her future career, "Practical experience is hands-down the best way to help determine the type of law to pursue after graduation and I would strongly encourage all students to intern throughout their time at Catholic."
Solano has kept herself pretty busy throughout law school, but she also recognizes the importance of maintaining a work/life balance. "It is essential to set aside personal time during law school." For her, that means spending time in the outdoors, trying new recipes, and getting dinner with friends. As Solano moves deeper into her last year at the Law School, she has this to share with students new to law school, "The opportunities are truly endless. Being in D.C. has offered so many opportunities and the students and faculty are dedicated to helping every student prosper."