April 28, 2021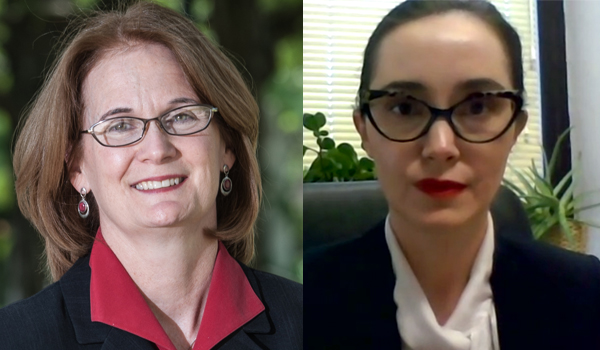 On April 27, 2021, the Contemporary Challenges in American & Global Law web series considered the question, "#MeToo and #BlackLives Matter: Conflicting Objectives or Opportunities for Advancement of Shared Priorities?" Catholic Law Professor Mary Graw Leary led the program's discussion and comments were made by dr hab. Aleksandra Kustra-Rogatka (IBTSLP 2004), Faculty of Law at Nicolaus Copernicus University in Toruń, Poland.
After introductions made by representatives from both Catholic Law and Jagiellonian University, Leary—a nationally and internationally recognized expert in criminal law and procedure as well as victimization, exploitation, and human trafficking—began the discussion. To start, Graw Leary shared with the group how this research project came about for her while also providing definitions and brief histories of both the #MeToo and #BlackLivesMatter movements. Graw Leary went on to further explain the emergence of areas of tension that have arisen in some legal scholarship between the two movements and shared a framework for a path forward which she believes will facilitate advancement for both movements. In doing so she focused on four hallmarks of both movements including accountability, recognizing human dignity, systemic reform, and the need to alter social norms. She concluded, "By framing these movements through the lens of the crime victims movement, with both individual and systemic characteristics, the complementary nature of these movements emerge much more clearly and both can advance together to achieve justice for all of us."
Kustra-Rogatka—whose scholarship includes focuses on non-governmental organizations dealing with democracy and rule of law, European integration on constitutional law, Polish judicial review, transitional justice, and rule of law in Europe—provided a wonderful international perspective on Graw Leary's work. Kustra-Rogatka commented on the complexity of social movements in general and these two movements in particular.
Following their remarks, Kustra-Rogatka posed a series of questions to Graw Leary that covered topics including the relationship of #MeToo and #BlackLivesMatter to earlier social movements, key legal and social components for the success of movements, how to measure that success, and the role intersectionality might play in the future of both movements. With the time that remained both Kustra-Rogatka and Graw Leary responded to questions from the audience moderated by Professor Emerita Leah Wortham, Director of the American Law Program and the LL.M. Program at Catholic Law.
To learn more about upcoming events, click here.
You can view a recording of the webinar below.