March 04, 2021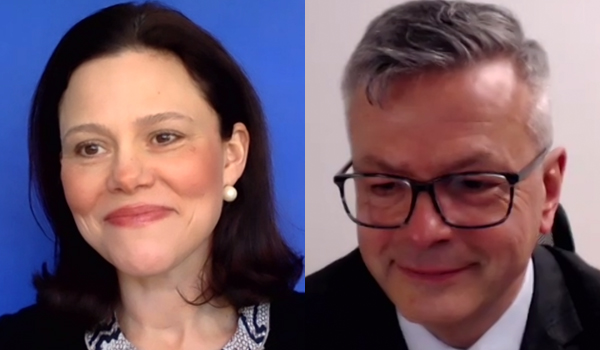 Contemporary Challenges in American & Global Law hosted another successful event with its eleventh webinar in the series. In the March 2 program, guest speakers discussed, "The War on Kids: Progress and the Path forward on Juvenile Justice." Cara H. Drinan, Professor and Director of Faculty Research at Catholic Law, led the discussion with comments on the topic provided by prof. dr hab. Włodzimierz Wróbel, Chair of Criminal Law, Jagiellonian University, and Polish Supreme Court Justice in Kraków, Poland.
After welcoming remarks from representatives of both Catholic Law and the Jagiellonian University, Drinan shared her thoughts on the state of the American juvenile justice system. As a nationally recognized expert on the right to counsel, juvenile sentencing, and criminal justice reform, Drinan began by noting the United States' place in the world as the most punitive democracy in regards to justice-involved youth. From that jumping-off point, she outlined the story of American juvenile justice—breaking it down into three fundamental points. Drinan spoke about how the U.S. waged a war on kids, some recently reformed elements of the system, and where the country is headed in the near future. Wróbel has published over 100 academic works in criminal law, constitutional law, and legal theory, and works to raise legal awareness in Polish society by communicating directly with the public. Through his comments, he worked to bridge the understanding between the two countries' very different systems. Wróbel's posed several clarifying questions to Drinan to help expand attendees' understanding of the U.S.'s incredibly punitive system.
With the remaining time in the program, Drinan and Wróbel answered questions moderated by Professor Emerita Leah Wortham, Director of the American Law Program and the LL.M. Program at Catholic Law. Questions covered topics including the relationship between harsh approaches to justice and the U.S. Constitution's 2nd Amendment, the U.S.'s ability to affect reforms at the federal and state levels, brain science and a juvenile's ability to think about punishment, and political motives that affect criminal justice reform. As the event drew to its conclusion, both speakers took a final opportunity to reflect on how the legal education system can better prepare lawyers to think critically about these types of questions.
To learn about upcoming webinars, click here.
You can view a recording of the webinar below.