February 06, 2021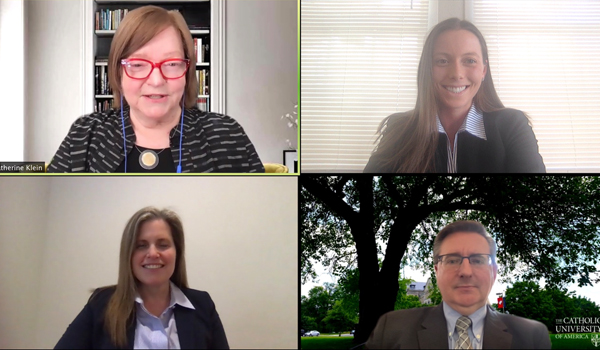 Catholic Law students Emily Totoro (2L) and Carmita Hedman Sequeira (3L), certified student attorneys in the Families and the Law Clinic (FALC), recently appeared virtually in Prince George's County Maryland Circuit Court supervised by faculty members Catherine Klein and Paul Kurth. The team received a favorable ruling on all issues in their client's Custody and Special Immigrant Juvenile Status (SIJS). This was a second trial for Totoro and Hedman Sequeira. The first one, also a Custody/SIJS case, was in Fall 2020 in D.C. Superior Family Court.
FALC, like the other clinics in Columbus Community Legal Services (CCLS), is designed to help students develop lawyering skills and professional values through actual experience representing clients.
Totoro and Hedman Sequeira both spoke about their experiences with the case. Totoro shared, "I had the privilege of working with Carmita and our supervisors to complete my second virtual trial with the Families and the Law Clinic. I am grateful that I have been afforded the opportunity to prepare, practice, and present a case for the second time and in two different jurisdictions. It is truly an incredible experience when you see your hard work and preparation come to life in the courtroom. The greatest accomplishment is knowing that we were able to use our skills to help change the life of our client."
Hedman Sequeira added, "It was great to be on a team with Emily again. Although we had appeared in court remotely just a few months ago and had a good sense of what to expect generally, the hearing in Maryland gave us an opportunity to experience a different jurisdiction with its own rules and court formalities. One of the takeaways for me this time was that preparation includes being prepared for the unexpected. I think that the time and energy that we invested in preparation for trial really paid off. I am grateful for this opportunity and the constant guidance and encouragement of our supervisors."
Catholic Law Professor and CCLS Director Catherine Klein said about the team's work on the case, "Carmita and Emily showed a great deal of poise and self-confidence throughout this case. They developed a very effective attorney-client relationship with their client, who is a young mother who has experienced trauma in her own life. They were consistently attentive, patient, and professional. They also took the lead on all aspects of their case: from developing the trial strategy and thoroughly prepared our client for the hearing, including all aspects of the technological challenges the virtual Zoom appearance presented for our client who does not regularly use a computer. The judge granted our client all the requested relief. As a result, our client's child is on his way to obtaining legal status in the United States. What a tremendous outcome for this family."