July 23, 2021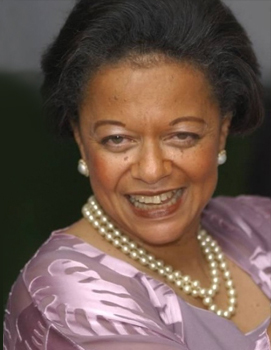 Karen Hastie Williams '73 succumbed to her decade-long battle with Alzheimer's dementia, Wednesday, July 7, 2021, at approximately 12:00 noon, at her home in Washington, D.C.—in the grieving presence of her loving husband of 53 years, the Reverend Dr. Wesley Samuel Williams, Jr., the Williamses' youngest son, Bailey Lockhart Williams, and Mrs. Williams' devoted caretaker of the past five years, Mrs. Maureen Grant Fenton.
Karen Hastie Williams clerked for Spottswood William Robinson III in 1973–1974, and for Thurgood Marshall in 1974–1975. She worked for Fried, Frank, Harris, Shriver & Kampelman, and became a partner at Crowell & Moring. Hastie Williams was chief counsel of the United States Senate Committee on the Budget from 1977 to 1980, and administrator for Federal Procurement Policy in the United States Office of Management and Budget from 1980 to 1981, under President Jimmy Carter. She served on the Internal Revenue Service's Oversight Board from 2000 to 2003, under President George W. Bush.
The funeral service for Karen Hastie Williams will be held on Saturday, July 24, 2021, at 1 p.m. at the Williamses' home parish of St. John's Episcopal Church, at Black Lives Matter Plaza, 16th and H Streets, NW, Washington, D.C., with a reception to follow at The Decatur House 1610 H Street.
Click here to view the full obituary.
Click here to view The Washington Post article - Opinion: Karen Hastie Williams was a trailblazer and a voice to remember