July 13, 2021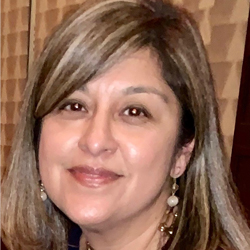 "For over twenty years, I have enjoyed a rewarding career as a dedicated public servant and member of the intellectual property community. Although I enjoyed the private practice of law, the transition to government allowed me to gain a work-life balance and expand my volunteer activities. I am passionate about mentoring the next generation and have actively engaged in this pursuit." Linda M. Estrada '94 has been working in the United States Patent and Trademark Office (USPTO) for two decades. Now an Attorney-Advisor in the Office of the Deputy Commissioner for Trademark Examination Policy, Estrada recognizes the importance of mentorship and strong professional connections in navigating a burgeoning legal career. As the inaugural recipient of the Latin American Law Students Association (LALSA) "Helped Us Find Our Way" Award, Estrada reflects on the career she has built, the importance of connecting with others, and helping to guide the next generation of lawyers.
Estrada was born and raised in Washington, D.C. Her parents immigrated to the United States from Central and South America respectively in the 1960s. For Estrada, her heritage is an important part of her identity. She shared, "I am immensely proud of my Latin heritage, which is an essential part of who I am as an individual. There are unique circumstances that minorities encounter in educational and professional experiences. My heritage and ability to navigate two worlds have enriched my life and given me perspectives that have allowed me to design my particular path towards professional and personal fulfillment." Another portion of Estrada's identity stemmed from the Catholic school education both she and her brother received—Estrada attended Georgetown Visitation Preparatory School in Northwest D.C. After graduating from high school, Estrada stayed in the District and attended The Catholic University of America (CUA). At CUA, Estrada continued to learn and grow within the Catholic intellectual tradition. Given her established history with the CUA community, when it came time for law school, it was no surprise that Estrada opted to attend Catholic Law. She explained, "I was enriched in many ways by attending Catholic University as an undergraduate and decided to pursue my legal studies at Catholic Law as a result."
Estrada's decision to attend law school, and ultimately pursue a legal career, was heavily influenced by several events in her life. Estrada noted one instance, in particular, that impacted her decision. "An occurrence from my childhood that remains vivid in my memory relates to the loss of my family's savings when we thought we were joining a group of other tenants to purchase the building where we resided at the time. Unfortunately, my mother and the other families were misled by individuals, who seemed trustworthy but took advantage of the situation. Language barriers, a lack of understanding of legal rights, and a lack of legal representation all played a role." Witnessing these and other barriers firsthand prompted Estrada to pursue a career in the law. She was the first in her family to graduate from a university and earn a doctorate degree.
Estrada initially enrolled in Catholic Law's part-time evening program and worked for an association management and lobbying firm. However, she transferred into the full-time JD program in her second year. The decision, she recalled, "opened the door to a new world." Immediately, Estrada joined LALSA, which helped her to connect with other Latino law students and attend events sponsored by the Hispanic Bar Association of D.C. (HBA-DC). Estrada recounted, "For the first time, I became aware of this dynamic and supportive group of Latino legal professionals from across the country practicing in all areas of the law."
Relationships with members of the faculty also influenced Estrada as she navigated her legal career. She explained, "Professor Fred Warren Bennett was one of the Catholic Law professors, whose influence was particularly impactful to my early legal career. I was fortunate to be one of his trial practice students and wanted to be a litigator as a result of that class and his mentorship. Professor Bennett was a wonderful teacher with tremendous passion for justice and an incredible legal mind."
When Estrada graduated in 1994, she found herself entering a challenging job market. After passing the Maryland Bar exam, Estrada made an important connection with an attorney in Montgomery County, Maryland, who became a friend and mentor. Estrada shared, "With his guidance, I established my solo practice in Rockville, Maryland in the areas of immigration, criminal and traffic, family law, and personal injury. It was a risky decision given that I did not have practical business or legal experience." Her career and practice flourished for nearly five years before she was presented with the opportunity to join the USPTO as a trademark examining attorney.
Throughout her career, Estrada expanded her professional network. She volunteered with local organizations and served on the board of the HBA-DC and the Maryland Hispanic Bar Association (MHBA) enabling her to gain experience in interest areas like non-profit governance, leadership, strategic planning, legislative affairs, and judicial nominations and endorsements. When discussing her early career development, Estrada explained the importance of surrounding herself with a strong network, "Although I did not have practical experience when I established my solo practice, I was determined to succeed and wanted to provide affordable, bilingual legal services to the growing Latino community. I immediately surrounded myself with seasoned practitioners as mentors. I worked for some of them on a contract basis, which also allowed me to gain additional exposure to other areas of the law. To further my professional development, I also frequently attended continuing legal education courses and seminars sponsored by local and state bar associations." She continued, "My personal and professional development have been greatly enhanced by my volunteer activities with the HBA-DC, the HBA-DC Foundation, and the MHBA, among other organizations, commissions, and boards. Through these activities, I created lifelong friendships and mentoring relationships for which I am eternally grateful."
Having created a fulfilling career for herself and experiencing firsthand the value of mentoring relationships, Estrada eagerly extends a hand to up-and-coming lawyers—especially those who are navigating law school as members of the Latino community. As she continues to help others find their path within the legal profession, she has this advice for law students today, "There are times when our best-designed plans are detoured or delayed. Flexibility is key in these circumstances. Unexpected opportunities generally lie ahead. Always put forth your best work product, guard your reputation and focus on expanding your network and cultivating meaningful, mentoring relationships."