March 05, 2021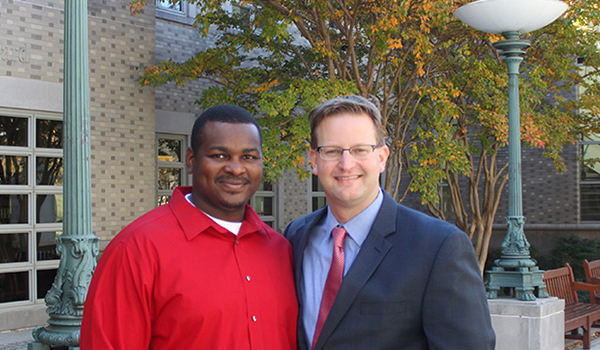 On the evening of March 4, the Catholic Law community was invited to an extraordinary story of justice and redemption. Moderated by Board of Visitors member, Parker Griffin '08, "The Exoneration of Alfred Dewayne Brown" told the story of Brian Stolarz '98 and his work with Alfred Dewayne Brown, the 13th exoneree from Texas Death Row.
Brown was arrested in April 2003 and was convicted and sentenced to death in October 2005 for a crime that he did not commit. Stolarz's presentation detailed his representation of Brown, from being assigned the habeas corpus attorney for the case through to Brown's release and the subsequent declaration of innocence. Stolarz outlined key details of the original trial, noting that badgering of key witnesses and a tainted grand jury were both major contributing factors in Brown's wrongful conviction. Stolarz also highlighted the importance of lawyers providing their "time and talents" to those in need. With the remaining time, Griffin posed a series of questions to both Stolarz and Brown regarding the tension of billable hours versus pro bono work as a lawyer, criminal justice reform, Brown's optimism about those reforms, and also the goodness, decency, and grace Brown has maintained from sentencing to the present.
Brown's road to exoneration and Stolarz's work were featured in episode eight of the Netflix docuseries, The Innocence Files, as well as in Stolarz's book, Grace and Justice on Death Row: A Race Against Time to Free an Innocent Man.