February 21, 2021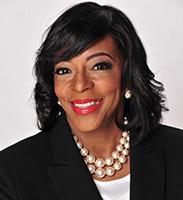 "I thought being a great homicide attorney was going to be my legacy. However, my legacy turned out to be mentorship. I have had the privilege to mentor so many young attorneys—African American attorneys, female attorneys, and others. Now, I'm like a proud mom. My attorneys are everywhere. They're everywhere." Deborah Watson-Stokes '90 has been working in the public service sector for three decades. Now the Supervisor of the Municipal Court Unit and Assistant District Attorney for the Philadelphia District Attorney's Office, Watson-Stokes spent 30 years as a prosecutor, 18 of those years serving in the Homicide Division. She has tried more homicide cases than any other female prosecutor in Philadelphia and all of Pennsylvania, earning herself the playful epithet, "The First Lady." Watson-Stokes' hard work and desire to serve each community of which she is a part has provided her with opportunities to build her impressive career.
Watson-Stokes was born and raised in Detroit, Michigan, the youngest of six children. In high school, she was Vice-President of her class and graduated seventh overall. "I quickly learned that the inner-city educational system was not what it should be. When I moved on to college, I struggled because of the educational background I received in high school, even though I had excelled in that environment." Watson-Stokes went on to pursue her undergraduate degree at Michigan State and was an active member of the school community. She was a member of Delta Sigma Theta (which is the largest sorority for women of color) and was active in issues related to social justice. Although she didn't go directly to law school upon finishing college, it was Watson-Stokes' early interest in social justice that kept her eye on becoming a lawyer. She shared, "Initially, I went to law school in order to become a civil rights attorney. I admired women like Barbara Jordan and Shirley Chisholm. They were my inspiration!"
That is how Watson-Stokes found herself at Catholic Law in the fall of 1987. "Initially, I was drawn to Catholic Law based on the location. In my mind, Washington D.C. was the center of the political world and that was exactly where I wanted to be." Coming from a large undergraduate experience like Watson-Stokes had at Michigan State, Catholic's small park-like campus with amazing proximity to the capital offered even more of what she wanted in a law school. Watson-Stokes continued, "I also wanted the experience of going to a smaller law school. I think Catholic was a perfect fit for me."
Watson-Stokes' three years at Catholic Law also provided her with numerous opportunities to determine who she was going to be as a lawyer. As a first-generation law student, Watson-Stokes knew what area of the law interested her, but she didn't necessarily know what it looked like or what she needed to do to get herself there. She credits the then-Director of Career Placement with helping her to find her path. She shared, he "would ask us, 'What do you want to do? Where do you want to go?' He would ask us those open-ended questions with no limitations. Depending on the answer that was given, he would make a phone call and put the right connections into place." Watson-Stokes told him she was interested in politics and civil rights and within her law school career, she held four internship positions that supported her passions—the U.S. Judiciary Committee on Rights and Constitutional Law, the U.S. Attorney's Office in D.C. for Deborah Long-Doyle, United Mine Workers, and the famed civil rights firm Houston & Gardner.
During her time at Catholic Law, Watson-Stokes was also a committed member of the Black Law Students Association (BLSA) and she helped to grow the Catholic Law chapter on a national scale. With support from the Law School, Watson-Stokes and several other members of BLSA attended a national conference; joining forces with several other small D.C. law schools to take hold of national positions for the mid-east region. Watson-Stokes became Vice-Chairman of the mid-east region while another Catholic Law student, Karen Crump '90, took the position of Treasurer. This "coup" was the first time that the school held any of the national offices for BLSA.
Watson-Stokes is grateful for her time at Catholic Law and the experiences it provided, "Catholic was very instrumental in shaping me into the lawyer that I am today. The experiences and internships molded me professionally and guided me to the career I ultimately pursued. I don't know that I would have had all of those professional experiences anywhere else" When it came time to leave, however, she was unsure if the DA's Office was the right place for her. "All of these internships and law school experiences ended up coming together for me professionally. I received an offer from the Philadelphia District Attorney's Office. I did not really want to be a District Attorney initially. I had hoped to become a civil rights attorney." The nudge she needed came from Professor Lou Barracato. Watson-Stokes noted, "He understood my personality, he knew about my background, and he helped me make that choice."
Now, having been able to shape and support the careers of countless others, Watson-Stokes reflected on the longevity of her own, "I've been able to sustain my career through five different DAs and they're all very different. I think that speaks to my authenticity, my commitment, my brand. I'm an African American woman, I live in West Philadelphia, and I think that is important. It's important to live with the people that you serve." When asked if she has any advice for young lawyers and law students today, she shared, "If I could give young lawyers any kind of advice, it would be to remember that you define yourself. Don't listen to the critics, and do not allow other people to define you. It may seem pretty basic but it's kind of a motto to live by. You are always going to run into obstacles and there are always going to be people who don't see you as you see yourself. [...] You'll always have what you need if you don't give up."