February 21, 2021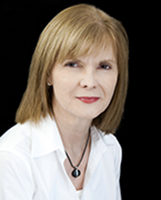 "I attended law school for two reasons. First, while working as a newspaper reporter, I fell in love with covering the Supreme Court; it was interesting and intellectually challenging. Unfortunately, I was not knowledgeable enough to be able to do the kind of thorough analysis of pending legal issues necessary to do the job right [ …] The other reason I attended law school is because of Professor Harvey Zuckman." This thirst for knowledge and high-level teaching is what set Distinguished Public Service Award Recipient the Honorable Diane Kiesel '85 on her course from journalist to judge.
During her undergraduate studies, Kiesel majored in English and Communication at Douglass College (the women's division of Rutgers University from 1971-1975) and upon graduating, she quickly became a reporter in New Jersey. Two years later, Kiesel moved to Washington, D.C., to earn a master's degree in Public Affairs Journalism from American University. It was there that she first met Professor Zuckman. "Professor Harvey Zuckman, the founder of Catholic's communication law program, taught a media law course as an adjunct professor at American University when I was in graduate school and he was terrific. He lobbied for me to go to law school. When I decided it was right for me, I figured if Professor Zuckman was an example of the level of teaching I would experience at Catholic, I wanted to go there."
Kiesel spent four years covering Congress and the Supreme Court in the Washington bureau of the San Diego Union and Evening Tribune before deciding to attend law school "with the idea that [she] would continue as a legal correspondent after graduation." In 1981, Kiesel began at Catholic Law in the evening division (going on to graduate first in the evening class) while also working for The City Desk, a bureau that provided political articles for city and regional magazines, and was the D.C. correspondent for the American Bar Association Journal. During this time, Kiesel co-wrote an article for The New Republic about how members of Congress misuse campaign funds. The piece went on to earn her the Worth Bingham Award for Distinguished Investigative Journalism. Her skills as a journalist have proved invaluable over the course of her career—as a prosecutor, as a teacher, as a judge, and as a writer.
Following her time at Catholic Law, Kiesel's law career began its climb. She quickly moved from clerking for two federal judges at the U.S. District Court in Baltimore, Maryland to working as an associate at the law firm of Cahill Gordon & Reindel in New York City. From 1989-1999 Kiesel was an Assistant District Attorney in the Office of the New York County District Attorney. It was then that she was appointed to the bench, where she has been ever since. "I began as a criminal court judge in 1999 and in 2004 was elevated to the Supreme Court and I preside over the state's first Integrated Domestic Violence Court in Bronx County [...] Since 2018, I have presided in the criminal term, New York County Supreme Court."
While Kiesel has been serving on the bench for 21 years, she hasn't lost her love of writing. "My career path has always gone in two directions; I never wanted to give up writing, but I found the law fascinating. Being lucky enough to have good grades and make law review (as Comment Editor), I knew I would have good options.". Kiesel has been an adjunct professor of law at New York Law School for nearly 30 years. In 1992, she began teaching legal writing and in 2001 transitioned to teaching domestic Violence Law. Kiesel has also published several books including two editions of Domestic Violence and the Law; a biography, She Can Bring Us Home: Dr. Dorothy Boulding Ferebee, Civil Rights Pioneer, and an upcoming book about a series of criminal and family court trials involving director Charlie Chaplin.
Reflecting on the trajectory of her career so far, Kiesel shared this advice with young lawyers, "Be open to new professional experiences. You may start out in 'big law,' earn a great salary, and pay down those law school debts, and remaining there after your bills are paid may make you happy; if it does—terrific. But if it doesn't, don't be afraid to take risks; go into public service, tech law, start your own firm or business, run for political office. Be sure to use your law degree to make the world a better place—whatever that means to you." Kiesel is profoundly grateful for her time at Catholic Law and how it has helped to shape her. "The greatest gift Catholic U has given me [is] about a half dozen very close friends, still with me after 35 years, and the memories of the professors from whom I learned so much. They were so inspiring I can hear their voices and remember what I learned from them nearly 4o years later [...] Catholic University School of Law changed the entire trajectory of my life for the better; I'm so lucky."