February 14, 2021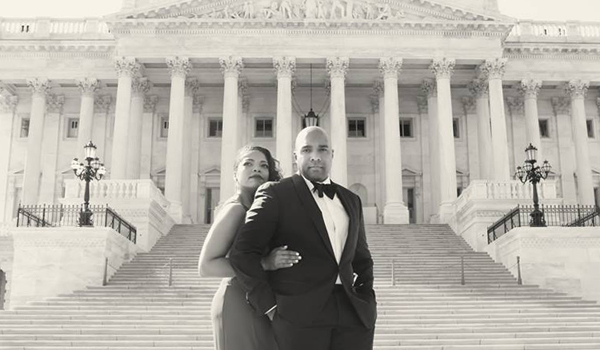 If you worked or went to law school with Yvette Banker '16 and Carl "CJ" Hobbs '16 between 2012 and 2016, it might come as a surprise to you that the two Catholic Law alumni are married. Not because they do not make a great couple—they certainly do—but simply because they always emphasized the importance of keeping things professional during law school. Both Hobbs and Banker considered law school to be a professional environment. Just like working in an office, they both maintained their professional identities—and many of their peers did not know until nearly the end of law school. Similarly, while working in the same office for a summer internship, co-workers didn't know about their relationship until years later. "People usually get a kick out of it once we tell them we are actually together," Banker shared. Despite the somewhat quiet approach they took to their early relationship, the Cardinal couple recently reflected on their experience navigating work, law school, and their relationship.
Banker and Hobbs first met at the Federal Dispute Resolution Conference in 2010 in Atlanta, Georgia. Hobbs approached Banker after one of the training sessions and they quickly realized that they had a lot in common—both lived in D.C., both worked in HR, and both aspired to become lawyers. They had their first date while still in Atlanta and decided they would continue seeing each other when they returned home. In 2012, they began law school as evening students at separate schools before Hobbs decided to transfer to Catholic Law's evening program. Banker noted, "I was a little apprehensive when CJ said he was going to transfer to Catholic [...] I liked that he was in one school and I was in another." In a lot of ways, law school is a competition and there was a little uncertainty about how they would navigate that, but ultimately there was so much to be gained for them being at Catholic Law together. During their interview, Hobbs shared, "When I transferred over, everything came together, and the rest is history. We studied together, had some classes together, her friends became my friends and vice versa." Of course, law school was hard, and both were busy, but having a shared understanding of the law school experience and what one another was going through was incredibly helpful to their growth as a couple.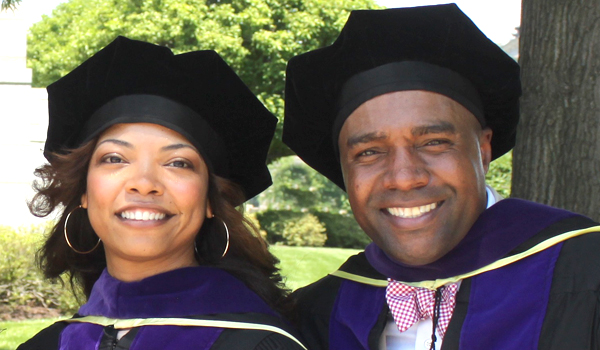 As evening students with full-time jobs, it was challenging juggling classes and work. Maintaining a relationship was also challenging at times because of competing time commitments and each handled their multiple responsibilities differently. Banker admitted, "CJ is much more balanced and equipped to juggle multiple priorities at the same time, while I was a bit more emotional." The stress of law school built up at times, but the two were able to find a good routine. They found support in one another, their friends, and even their employers. Hobbs was particularly thankful for the support he received from his job. "My job really really helped me out [...] They encouraged me to go to law school, to take internship opportunities at other agencies, to amend my schedule."
Looking back on their time at Catholic, each shared some advice for current and potential Evening Program students. For Banker, being organized with one's time is paramount. She advised, "Take a look at what you will be able to manage." Getting ahead of things before classes even started—like finding a less strenuous job—can help set oneself up for more success. She continued, "You may need to readjust some things in your life." Hobbs suggested, "Always network." He highlighted the importance of meeting people, cataloging the information they provide, and keeping relationships strong. Hobbs also noted the culture of mentorship that Catholic Law has cultivated and the importance of those types of connections. "You have to look at [Catholic Law] as an extended family."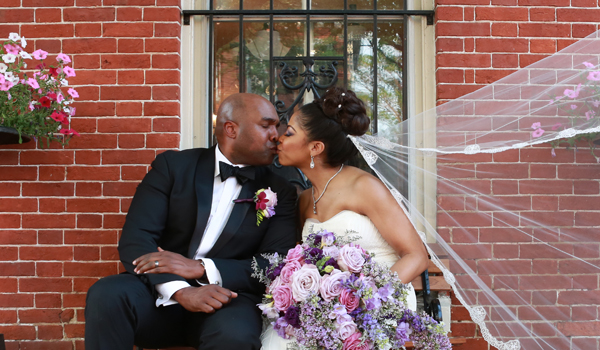 The couple got engaged in 2015, graduated from the Law School in 2016, and were married in May of 2018. Some might have been impatient with a long engagement, but for Banker and Hobbs, it felt right to focus on one thing at a time. They focused on completing their degrees, passing the bar, and establishing themselves in their post-JD careers. When they got married, they felt established and ready to take that step. Banker commented, "If we made it through dating in law school, we would probably have a really good chance at marriage."
Ultimately, life for the couple is still as busy as ever. With the start of the COVID-19 pandemic, both started new jobs and just bought their first home together, now residing a little over a mile from Catholic Law. Last February, Banker started a position at the Pension Benefit Guaranty Corporation (PBGC) as an Employment and Labor law attorney where she litigates employment discrimination and labor relations matters before administrative courts. After a brief period on Capitol Hill, Hobbs recently began a position as Senior Employment Counsel for the Housing and Urban Development Office of Inspector General (HUD OIG), where he litigates employment cases, manages the agency's employment litigation schedule, gives training on personnel matters, reviews subpoenas, and provides a wide range of legal support to other components in HUD OIG.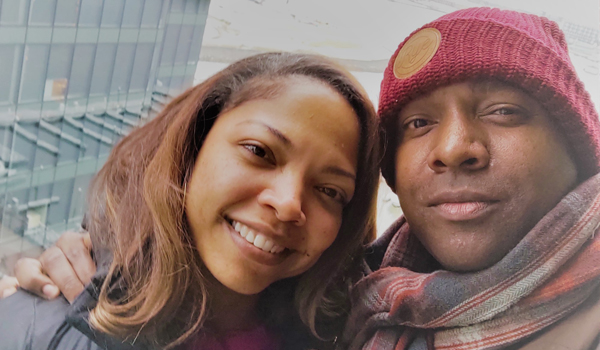 Integrating into new positions from a distance came with challenges like missing in-person interactions, navigating new virtual platforms, and buying office furniture for their new home. The challenge of the pandemic has reinforced the importance of finding a work/life balance. Banker and Hobbs rely on carving out time each day for themselves—even if it's only 30 minutes. Whether it's going for a walk, sticking to a workout routine, or relying on hobbies like boating and golf, they find both big and small ways to have fun together—or as Hobbs likes to say, "Live every day like it's Saturday."