February 12, 2021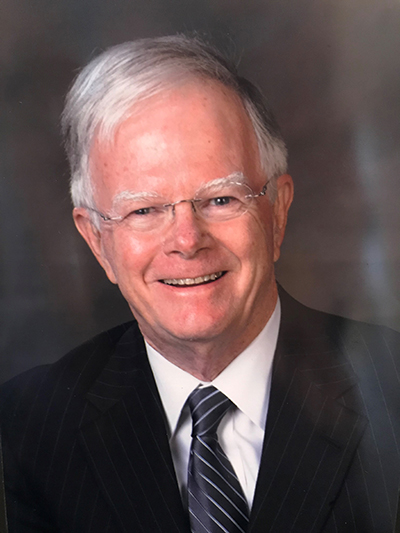 Fifty-eight years ago, Michael F. Curtin '65 made the decision to attend law school. From the moment he set foot in the 18th Street building (where Catholic Law was located until 1967) in the fall of 1962, he knew he had made the right decision in attending Catholic Law. "The Law School has been integral to my life as a lawyer and as a person." Now, after receiving the William Callyhan Robinson Alumni Award, Curtin looked back on the lessons he took from his Catholic Law education and how they put him on the path to success.
Curtin was born and raised in North Jersey and received a Jesuit education from St. Peter's Prep in Jersey City, New Jersey. After graduating high school, Curtin headed to Syracuse, New York to attend Le Moyne College. At Le Moyne, another private, Jesuit institution, Curtin determined that he would go to law school. Unsurprisingly, he considered various Catholic institutions when making his decision. Boston College, Georgetown, Catholic Law were all in the running. A series of events helped Curtin make his final choice.
It started with an internship in D.C. at the Department of Labor the summer between his junior and senior years at Le Moyne. Curtain reflected on the experience, "It was the summer of 1961—Camelot time—it was Berlin wall time. It was a neat town. I grew up in northern New Jersey, just across the river from New York, and then I went to school for four years in Syracuse. New York City, back in the late 50s and early 60s was a crazy place, and Syracuse was kind of a sleepy town. I found Washington, D.C., was just perfect." When representatives from law schools around the country came to La Moyne to recruit students in the Winter 1961-62, Curtin interviewed with the representative from Catholic Law, Arthur John Keeffe. Keefe, Curtin explained, was the "quintessential law school professor," down to the vest and keychain he wore. Their conversation sold Curtin on CUA and the Law School, and with his acceptance and a job offer to work in the library, Curtin committed.
Curtain entered the Law School with the intention of becoming a labor lawyer, but as his 55-year career in trust and estates can attest, things didn't quite work out that way. In a trust and estates course with Professor John Garvey, Curtin got his first taste for the subject. "He was just an incredibly smart person. Very quiet, reserved, but was impactful for me." It was Garvey who years later would ask Curtin to join the Adjunct Faculty and teach a trust and estates course. While Garvey introduced Curtin to the field, it was early, hands-on experience that kept him there.
Between his first and second years of law school, Curtin took a clerkship at a local D.C. firm and he grew the law clerk position into a part-time job for the remainder of law school. "I would go to class early in the morning, then work at the law firm, then go back to the Law School two or three nights a week to take extra courses. I went to a summer school one summer, so I was able to finish in three years." The firm was primarily a labor law firm, but would often take estate work from local D.C. clients. Whenever estate work came in, it fell to Curtin as "the rookie" to complete it. As Curtin took on full-time work post-graduation, more trust and estate work came in and he just kept doing it. As a result of this work, Curtin interacted frequently with the U.S. District Court in the District of Columbia. When it became clear that an opportunity for a position as Deputy Register of Wills in the District of Columbia was open, Curtin took it. Curtin was Deputy Register of Will until going into private practice. Modestly Curtin shared, "People thought I was smarter than I was at trust and estates. Anyway, that's really how it started and I joined this firm in 1975 and continue practicing at its successor firm to this day."
Curtin has had a long, successful career in trust and estates—and most importantly a fulfilling one. The secret to such a rewarding career? It's simply that Curtin derives satisfaction from doing a good job. Curtin explained, "The biggest satisfaction is using the law wisely. Getting people through the legal process, whether it's estate planning, or estate administration, or estate litigation so that at the other end they have a good estate plan or they are able to enjoy the transmission of wealth from a relative or friend." His work ethic and approach to the law were heavily influenced by Curtin's Catholic Law School education. It wasn't just about learning the law, it was about learning to function as a positive force in society. "Using your 'lawyerly skills' to get the best result for your client, whether that client is a paying or pro bono client, has always seemed to me to be the best way to go."
Of course, balancing a successful career and with a personal life has not always been easy. Curtin spoke about his own work/ life balance, "That kind of jargon was not really part of the lexicon when I was coming up through the law. Most people probably would tell you I had and continue to err on the side of work. My wife, Kathleen, and I were married after my first year of law school and have been happily married for more than 57 years. Looking back, a more equal balance between work and family time would have been very enjoyable. However, it all seems to have worked because I have had the best partner to accompany me on this journey. Our family of five children, five children-in-law, and twelve grandchildren have filled my life with joy even in the midst of so much work."
When asked if he has any advice he could share with today's law students, he had two things to say, "One: Try not to get too distracted by things like part-time work, if you can afford that path. Law school is a three-year commitment. Absorb everything you can in those three years of learning the law. Two: Spend extra time and effort learning how to write well. Three: Engage. Get involved in the clinical programs available at the Law School—learn the law, learn how to think and write like a lawyer. Learn how, as a lawyer, to become a more productive citizen of society."