November 16, 2021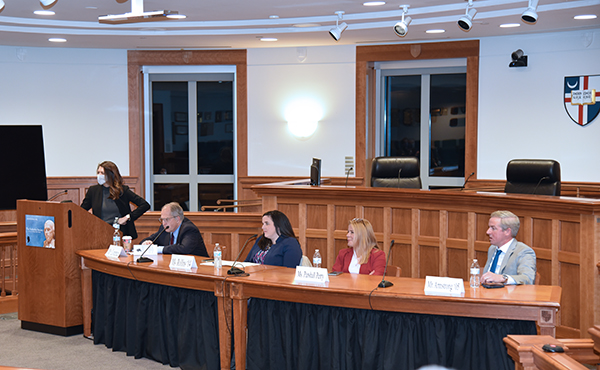 On November 15, 2021, Catholic Law's Federalist Society hosted a career panel entitled, "Beyond Legal Aid: Exploring Careers in the Public & Nonprofit Sectors." Federalist Society President Tabitha Kempf (3L) led the event, as panelists provided valuable information about working in public interest, public service, and nonprofit jobs.
Chris Armstrong '05, Holland & Knight; Jordan Lorence, Senior Counsel for the Alliance Defending Freedom; Sarah Parshall Perry, Legal Fellow for the Heritage Foundation; and Kara Rollins '14, Litigation Counsel for the New Civil Liberties Alliance, provided students with information on each of their experiences working in the public sector, explained why/ how they chose their career paths, and shared advice they have for students interested in pursuing careers in public interest, public service, and nonprofit spaces. To conclude, the panel answered questions posed by those in attendance. Following the panel, students were invited to a reception in the Louise H. Keelty and James Keelty Jr. Atrium for a chance to network and engage in conversations with the panelists.
About the event, Kempf shared, "We've found that many students are interested in the nonprofit, public interest, and public service sectors but are unaware of the vocational options in those arenas beyond legal aid. Though it's a break from the traditional FedSoc debate format, we wanted to host this panel to introduce our students to some of the outstanding practitioners who are part of the Federalist Society network and are active in the nonprofit and public spaces."