November 02, 2021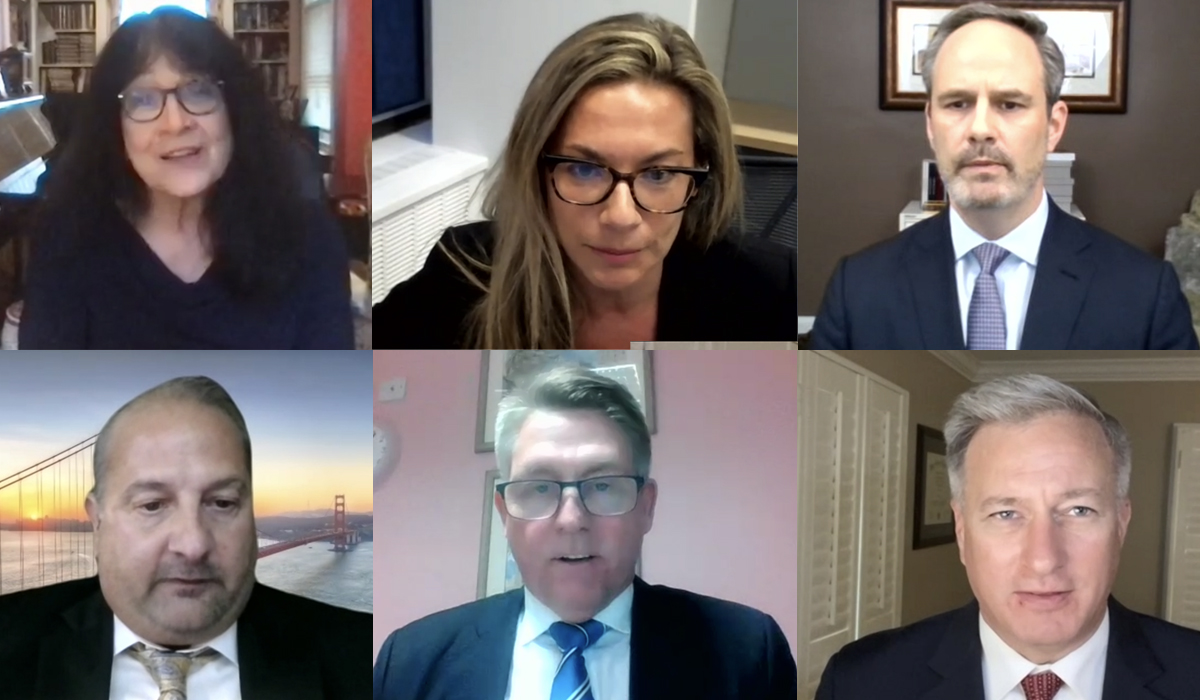 (From Left to Right: Top Row - Professor Sarah Duggin, Renata Parras, Dean Stephen Payne. Bottom Row - John Jager, The Honorable Kevin Hyland, O.B.E., and The Honorable John Cotton Richmond)
On October 28, 2021, Catholic Law's Compliance, Investigations, & Corporate Responsibility (CICR) Program, ​​in collaboration with Paul Hastings LLP, presented the first program of its 2021 Business Accountability for Human Rights series. The event, "Human Rights Compliance - How the Public and Private Sectors Can Work Together to Stop Modern-Day Slavery," provided an overview of human rights issues in global supply chains with a particular focus on labor exploitation and ideas for how businesses, governments, and NGOs can work together to stop human trafficking, modern-day slavery, and other types of labor exploitation.
Dean Stephen Payne welcomed the group noting that the program is a continuation of the discussion that began with last year's series of CICR events. He also shared his excitement about the upcoming Conference on Business Accountability for Human Rights that Catholic Law will also host in collaboration with Paul Hastings LLP on April 7-8, 2022. "We are working with experts from around the world to help shine a light on the plight of some of the world's most vulnerable people and to explore ways in which the private and public sectors can work together to a better future [...] We are delighted to have you here with us today. We have a lot going on at the Law School, and this is undoubtedly one of my favorite projects." Professor Sarah Duggin, Director of the CICR Program, and Renata Parras, Global Pro Bono Counsel for Paul Hastings LLP and former Deputy Chief Counsel of the U.S. Department of Homeland Security, moderated the discussion.
Duggin began the program by sharing some overall statistics regarding modern-day slavery. She then introduced the event's distinguished panelists, giving each of them an opportunity for opening remarks: the Honorable Kevin Hyland, O.B. E., a human rights expert & former Independent Anti-Slavery Commissioner of the United Kingdom; the Honorable John Cotton Richmond, partner for Dentons & former United States Ambassador-at-Large to Monitor and Combat Trafficking in Persons; and John Jager, Vice President of Legal, Regulatory and Trade Compliance for Toyota Tshusho America, Inc.
Hyland noted in his opening comments, "When we are talking about issues of human rights and supply chains and human trafficking, we have to really go back to what this breach is and what it's about. If we look at the universal declaration of human rights, this crime—and we have to remember that it is a crime—breaches so many of those rights." Richmond spoke of the need to put traffickers at the center of the picture and focus on addressing the harm these criminals do. He noted the evolving shift in the burden of addressing labor exploitation issues from governments to the private sector and the way in which expectations are evolving as new human rights laws and due diligence requirements come online in a number of countries. Jager focused on the need for large global companies to assess human rights and sustainability issues in supply chains every day and the complexity of doing so, the importance of transparency to companies seeking to combat human rights abuses, and the need to find better ways of communicating and sharing information about bad actors.
Parras then posed a series of questions to the evening's panelists. She emphasized the importance of an honest, open dialogue as a pre-curser and call to action in addressing the issues of modern-day slavery and human trafficking. The questions invited each of the panelists to speak in more depth about the complexities of labor exploitation and why modern-day slavery and human trafficking continue to be so pervasive in modern times. The panelists covered a range of topics including current accountability efforts and the nature of current measures, companies' awareness of supply chain issues and their compliance with applicable regulations, the differences in approach between the public and private sectors, and the efficacy of regulation vs. incentivization.
The final segment of the program was devoted to a Q&A segment in which Duggin moderated questions submitted by some of those in attendance. As the program drew to its conclusion Duggin and Parras once again thanked Hyland, Richmond, and Jager for their time and expertise.
The CICR Program looks forward to continuing this web series. The next program installment will be held on February 10, 2021. The Conference on Business Accountability for Human Rights: Addressing Human Rights Issues in Global Supply Chains is scheduled to be held in person on April 7-8, 2022, at The Catholic University of America Columbus School of Law. Click here to learn more.
Below is a recording of the October 28, 2021, program.