October 18, 2021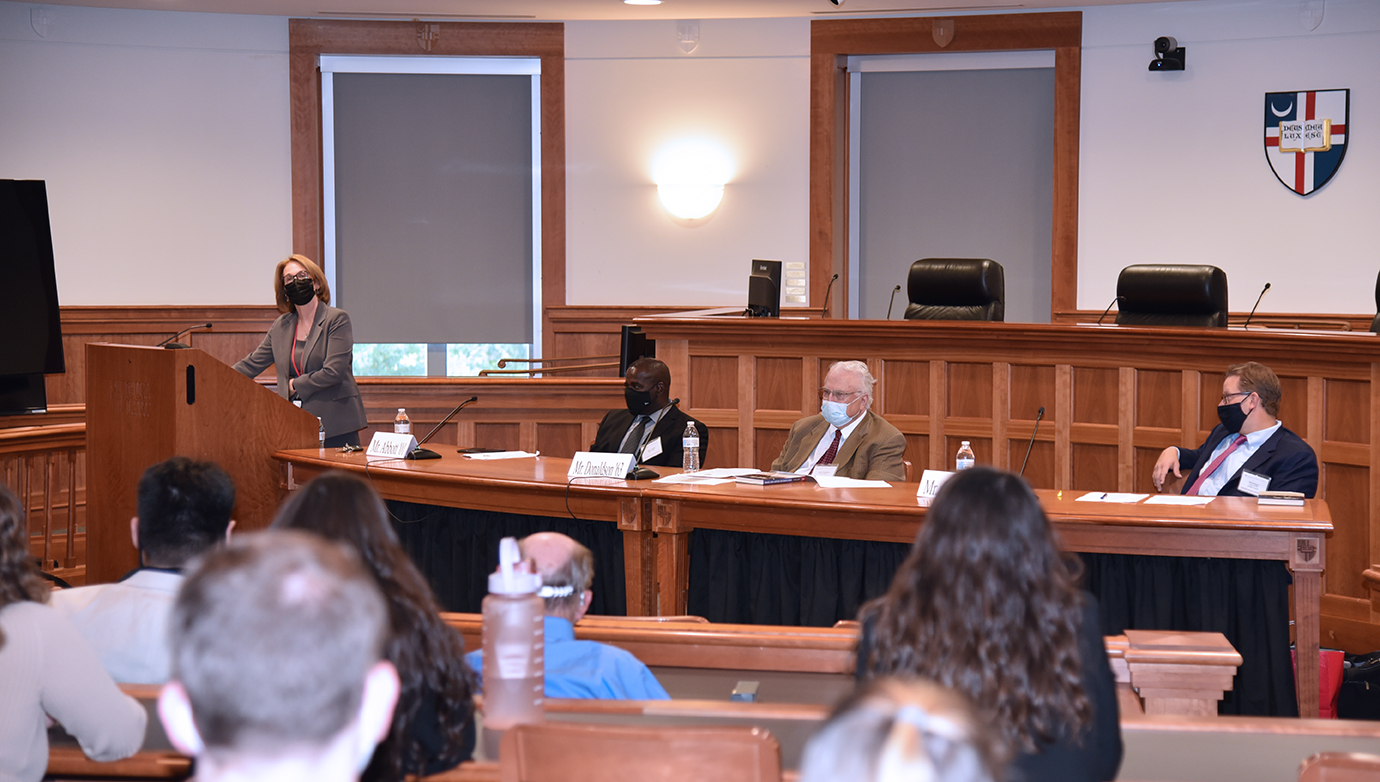 On the evening of October 14, 2021, the Catholic Law community gathered in Walter A. Slowinski Courtroom for Death Penalty Representation: A Historical Perspective, presented by the Criminal Law Society (CLS).
Mary Graw Leary, Senior Associate Dean for Academic Affairs and Professor of Law, welcomed the group, outlining the importance of events like this in discussing the role of death penalty cases in America and criminal justice more broadly. She began the program by giving a brief overview of the death penalty—providing historical context for the conversation she would be having with the speakers. Additionally, Graw Leary drew attention to the contemporary relevance of the death penalty conversation. "[The death penalty] is in decline, but as you all know, it is alive and well in discussion—just yesterday, the Supreme Court heard the case of Mr. Tsarnaev, who was given the death penalty in the Commonwealth of Massachusetts."
Graw Leary then introduced the evening's guest speakers—Jason Abbott '01, Principal Deputy State's Attorney for Prince George's County State's Attorney's Office; Arthur Donaldson '63, former FBI Agent, Litigation Attorney (retired); and Brian Stolarz '98, Senior Counsel for Norton Rose Fulbright. Each has extensive experience and perspective on topics related to the use of the death penalty in America. Graw Leary acted as moderator for the event.
Following Graw Leary's introductory remarks, Abbott, Donaldson, and Stolarz each took an opportunity to speak about their work and share some of their thoughts regarding the death penalty. Each of them acknowledged the profound importance of acknowledging that human lives are at stake in these types of cases—Donaldson was briefly overcome with emotion while speaking—and there was a deep sense of justice amongst them. Stolarz eloquently put it, "In order to do death penalty work—which I encourage all of you to do criminal defense work, I encourage you to do prosecutor work, as long as you play fairly. If everyone plays fairly, the system usually pans out the way it should [...] and justice usually happens. But if you are going to do that, you must do that with your whole heart, with all of your passion, with all your love."
Following the program, guests were invited to the Louise H. Keelty and James Keelty, Jr. Atrium for a small reception and to mingle with the evening's speakers.