August 18, 2021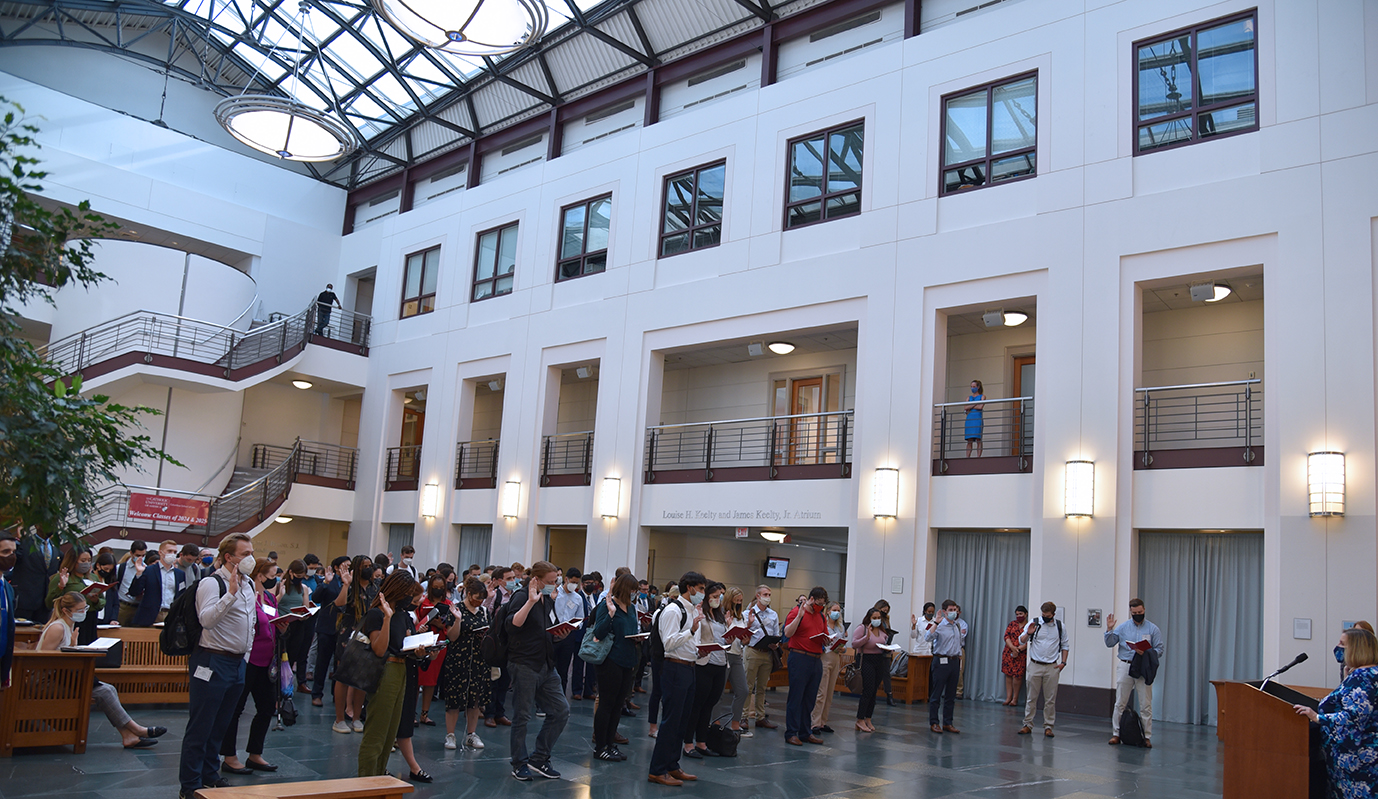 On August 17, 2020, first-year students entering the Law School were asked to recognize their future role as lawyers and public citizens by reciting the induction pledge. Held in Catholic Law's glass-roofed, three-story Louise H. Keelty and James Keelty, Jr. Atrium, Catholic Law Dean Stephen C. Payne introduced the Honorable Jennifer M. Anderson '84, Associate Judge in the Superior Court of the District of Columbia, to administer the oath.
Prior to going on the bench, Judge Anderson served as an Assistant United States Attorney in the Office of the United States Attorney for the District of Columbia in the Misdemeanor, Felony Trial, Grand Jury, Federal Narcotics, and Homicide Sections. Judge Anderson was appointed to the Superior Court of the District of Columbia by former President George W. Busch and sworn in on October 27, 2006. Since joining the Court, she has served on a variety of committees of the Court, including the Criminal Justice Act Panel Implementation Committee, the Mental Habilitation Committee, the Technology Committee, and the Family Court Implementation Committee. Judge Anderson has served in the Civil, Criminal, Domestic Violence, and Family Court Divisions. Judge Anderson currently is assigned to a Civil I calendar.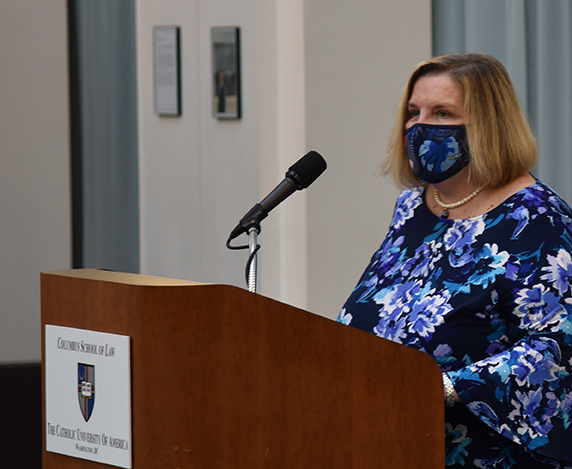 Judge Anderson has enjoyed a distinguished legal career since graduating from the Columbus School of Law and the Law School was honored to have her preside over the induction ceremony. Judge Anderson was eager to help the new students begin this very exciting time in their lives, but also noted the profound importance of the oath. Looking out upon the Classes of 2024 and 2025 she shared, "I can't emphasize enough how important the attributes of this oath will be to your careers." She then shared some advice regarding the importance of civility and seizing opportunities as they come. Judge Anderson concluded by asking the students to repeat after her as she recited these words:
I, [name], do solemnly swear or affirm that to the best of my ability I will be professional and ethical in all that I do as a member of the community at the Columbus School of Law; I will treat all persons whom I encounter with fairness, integrity, and civility; and I will strive to use my knowledge and skills to advance society, improve the quality of justice, and increase access to justice for all.