May 21, 2021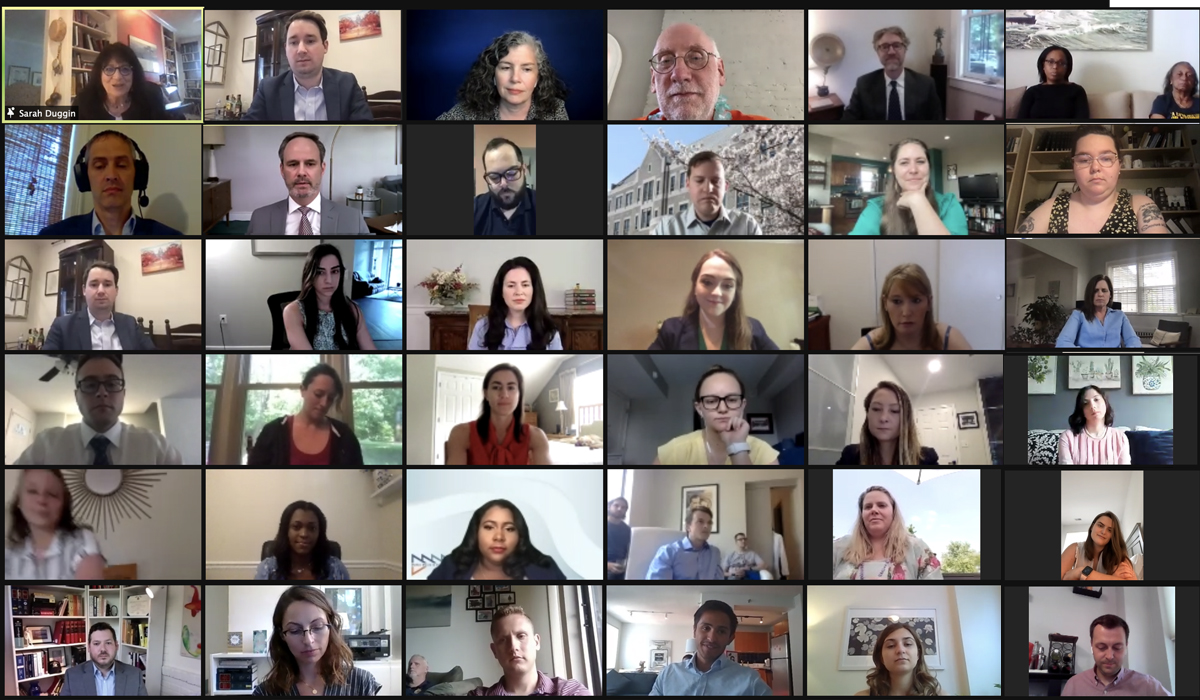 The 2021 Institutes and Special Programs Certificate Ceremony, held virtually on Thursday, May 20, invited graduates from the five certificate-issuing institutes, and their guests to celebrate their achievements—having earned a level of subject mastery beyond that of the general J.D. curriculum.
The students recognized in the ceremony have studied in focused and enriching areas of legal practices and certification from these institutes—Comparative and International Law Program, Compliance, Investigations and Corporate Responsibility Program, Law and Public Policy Program, Law and Technology Institute, and Securities Law Program—endorses recipients as specialists in their respective areas of study.
Dean Stephen C. Payne welcomed students, faculty, staff, and guests, sharing, "It's really important to us to be able to recognize our graduates today who have earned certificates in these programs and I am joined by an illustrious group of faculty who direct these programs." After the Dean's opening remarks, the directors from each program spoke with pride about this year's graduating class—noting, in particular, the resilience and fortitude this class exhibited in light of the challenges brought about by the pandemic.
As just the second director in the Comparative and International Law Institute's 36-year history, Professor Emeritus Geoffrey Watson is proud that the program continues to reflect the vision first defined by program founder, Rett Ludwikowski. About the program, Watson shared, "A well-rounded education in international law should partake in both halves of the profession [private international law and public international law]." He continued that in requiring coursework in both areas of the law, "Our graduates come out with a foundation that allows them to pursue jobs either in the public sector or the private sector."
Professor Sarah H. Duggin, Director of Compliance, Investigations and Corporate Responsibility Program (CICR), shared regarding this year's certificate earners, "They've not only persevered in their legal studies, but they've mastered challenging areas of the law in a particularly difficult time." As the newest of the Law School's certificate programs, this year marks the completion of CICR's second year and Professor Duggin is eager to see this year's graduates join the growing number of CICR alumni.
"I truly envy this generation of lawyers [...] And I say that I envy you because I truly believe that you are entering a moment of real opportunity that doesn't come around a lot and you have an opportunity to make meaningful and good change for the future." Speaking on behalf of the Law and Public Policy Program, Professor Roger Colinvaux summarized the projects his students created this year that addressed topics such as reducing waste, addressing the opioid crisis, improving access to mental health services, food insecurity, the use of hazardous materials in consumer products, retirement security, and immigration. Professor Colinvaux also recognized Patrick Maillet, Rachel Simoneau, and Mary Turgeon with the Dulin Haynes Fellowship for their dedication to public service.
"[Program participants] have had the opportunity to work together, plan, and participate in programming on a wide range of law and technology topics [...] As you go forward and become lawyers, we look forward to seeing your impact on these issues." Professor Elizabeth I. Winston said on behalf of her and Professor Megan M. La Belle, both co-directors of the Law and Technology Institute.
Visiting Associate Professor Jeremy Kidd, serving as Director of the Securities Law Program this year, spoke about why securities law is both more important and more common than many consider it to be. He concluded, "Our students who are getting their securities law certificates this year have gained expertise and knowledge that will serve them well even in areas they might not imagine it."
Comparative and International Law Institute
Katherine Rose Afzal
John Clement Bat
Rebecca Lynn Benedetto
Keshia Marie Burns
John Nickolaus Cheich
Whittney C. Fox
Carmita Hedman Sequeira
Amanda Jo Holbrook
Catherine Caroline Marie Kelley
Kathleen Brennan Mauck
Armin Mohseni
Morgan Leigh Oliver
Peaches Nikole Ostalaza
Caleb Joseph Parker
Helena Ariel Roland
Compliance, Investigations and Corporate Responsibility
Whittney C. Fox
Denise Isaac
Matthew Eric Marchiori
Tiffani N. McEntegart
Lauren Alessandra Sormani
Daniel James Warren
Law and Public Policy
Brenda Jacqueline Keels*
Christina L. Lara
Patrick Cornelius Maillet
Seton William Parsons
Rachel Paige Simoneau
Mikhayla Rae Stover
Mary Catherine Turgeon
Law and Technology Institute
Rola Aylo, Ph.D.
John Clement Bat
Alexa Shirley Cafasso
Ryan Louis Carroll
John Nickolaus Cheich
Ruric G. Ellings
Caleb Addison Holland
Heather M. Howell
Jeremy Alan Levin
Brandon Michael Livengood
Peaches Nikole Ostalaza
Jeanette Panning
Joshua Phillip Perez
Alix Joseph Volvick Philogene
Stephanie Rachel Swerling
Svantje Saskia Swider
Stephanie H. Toussaint**
Jessica Wilkerson
Securities Law Program
Greta Malgorzata Chwalek
Jennifer Marie Deci**
Ana Maria Gonzalez
Patrick R. Hall
Christina Mitsopoulos
Eden Jasmine Obina Olson
Nicolas Valderrama
*Degree conferred October 31, 2021
**Degree conferred January 31, 2021