April 07, 2021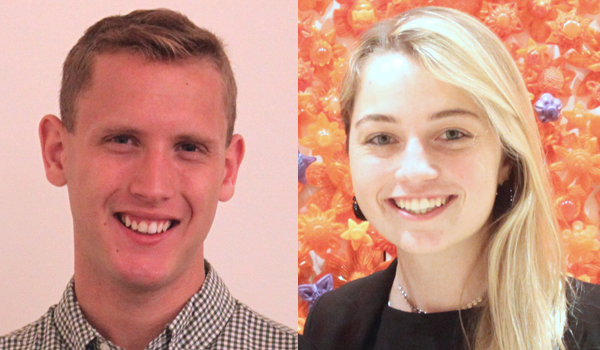 On the last weekend of March, the Catholic Law Moot Court Association hosted the Fourth Annual Ellen A. (Nell) Hennessy Moot Court Competition with the American College of Employee Benefits Counsel. Among those competing was the Catholic Law Moot Court team of Mary Delaney (2E) and Caleb Parker (3L). After a day of competition, responding to prompts regarding current employee benefits issues, Delaney and Parker earned recognition as runners-up for Best Brief.
This year's competition prompt focused on employment law. Delaney admitted, "I was unfamiliar with employment law prior to this competition, but I enjoyed researching all of the Employment Retirement Income Security Act's (ERISA) complexities and understanding the significance of this body of law. It was evident how knowledgeable and passionate about ERISA the competition judges were and they encouraged all of us as competitors to explore new areas of law until we find what we're passionate about as well." She added, "The competition as a whole was one of my favorite experiences at the law school thus far. I learned a lot, had a ton of fun, and I feel more confident than ever that I'm on the right career path!"
Similarly, Parker did not have a background in employment law prior to the competition. He shared, "I never had a background in Employee Benefits/Pensions before. Mary and I were originally supposed to compete in a tournament regarding Environmental and Energy Law which was regrettably canceled. We were asked in January by the Moot Court Association if we would be willing to compete instead in the Hennessy Tournament involving ERISA Law. Mary and I both had no idea what ERISA even stood for; however, we were eager to compete for our team and learn a new practice of the law along the way."
In preparation for the competition, Delaney and Parker worked with a Catholic alumnus coach, McGavok "Mac" Reed '15, who made a huge impact in preparing the team for oral arguments and helping them to feel comfortable in front of judges. However, when it came to writing the brief that ultimately earned them the award as runners-up, the two were largely on their own.
Delaney concluded, "Moot Court gave me the opportunity to put to the test all of the legal writing and reasoning skills that I've learned in the classroom over the last two years. I would highly recommend joining the team for any law student looking to strengthen their writing and oral arguing skills. Also, the Vice-Chancellor of the competition, Christina Pashaj (3L), did a great job ensuring the competition ran smoothly and made the experience great for everyone, despite the entirely virtual forum."
Parker added, "I am very proud of what Mary and I were able to accomplish. We worked virtually and remote all semester, and had to learn ERISA and Employee Benefit and Pensions Law from the very beginning on our own since we had no background. I am fortunate to have learned brief writing from stellar LSP professors and from my Legal Writing Seminar on Dispositive Motions by Adjunct Professor Steven Semler. The academic background I received demonstrated that I am able to competently and effectively draft and argue an appellate brief in a short turnaround and on a topic I had just learned."