April 05, 2021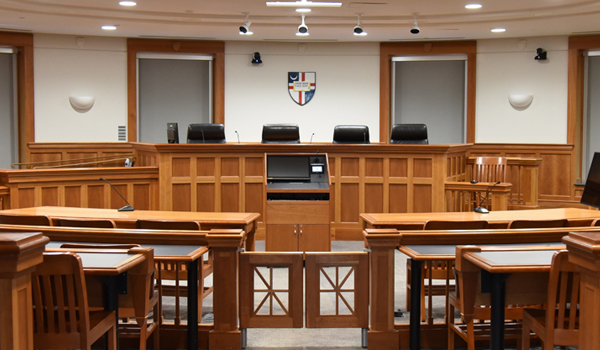 On March 25, 2021, Catholic Law's chapters of the Federalist Society and the American Constitution Society co-hosted a virtual event, "Perspectives on the Administrative State: Big Government's Desirability, Constitutionality, and Possible Changes Under the Biden Administration."
Tabitha Kempf (2L), Federalist Society Treasurer, welcomed the group of Catholic Law faculty and students and introduced the program's guest speakers—Margaret Little, Senior Litigation Counsel with The New Civil Liberties Alliance, and Amanda Leiter, Professor of Law at American University Washington College of Law and Director of the Program on Environmental and Energy Law. Little's experience working for a nonpartisan, non-profit civil liberties law firm and Leiter's expertise in administrative law, as well as her experience serving as a member of the Biden transition team, uniquely qualify these guests to speak on the topic. Catholic Law Professor Joel Alicea acted as moderator of the event. Before turning the floor over to Little and Leiter, Alicea noted the timeliness and prominence of the topic of the Administrative State, particularly given the recent change in administrations and distinctly different regulatory agendas.
Following Alicea's comments, each speaker had the opportunity to weigh in and provide perspective on the Administrative State. Little focused her thoughts on the 37 executive orders President Biden has issued since taking office. She outlined areas of particular concern to her including the expansive growth of the Administrative State and its combined authority to make, prosecute, and adjudicate laws; Congress' broad delegation of its law-making power to federal agencies; and the deference doctrines courts employ in reviewing agency conduct. Leiter then provided her general thoughts on the topic and shared that from her perspective, a robust Administrative State is necessary to address human health and welfare concerns in an increasingly complex society and it is possible to do so with appropriate checks and balances on agency power. She then used the remainder of her time to address some of the specific concerns Little raised.
As the program drew to a close, Little and Leiter fielded questions from the group. Both speakers addressed the role of the Supreme Court in the Administrative State, considered the role of agencies in protecting individual liberties and human rights, and concluded with final thoughts.