March 23, 2021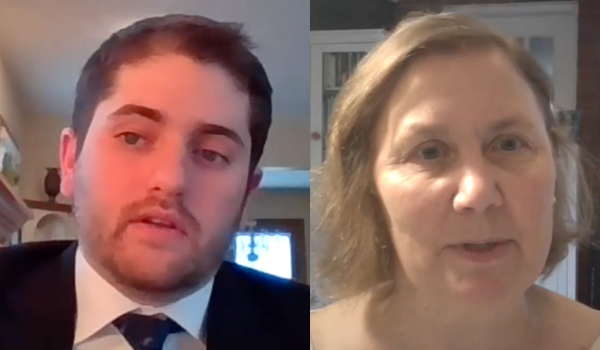 Catholic Law's Student Scholar Series continued on March 18, 2021, for its third, and final program of the year. Third-year law student Mark Nobile presented his research, "Bet On It: The Complicated History and Uncertain Future of Sports Betting in the United States and How the Growing Industry Might Affect Technological Advancements."
In 2018, the Supreme Court lifted the federal ban on sports betting with its decision in Murphy v. National Collegiate Athletic Association. As a lifelong sports fan, Nobile decided to research the subject after reading an article that suggested that online sports betting would potentially expose cybersecurity weaknesses if the issue was not addressed prior to states creating their own sports betting industries since the industries would have a uniquely online presence. Nobile gave a brief history of sports betting in the United States and cited several important pieces of legislation that have brought the online sports betting industry to where it is today. While the 2018 Murphy decision has allowed for states to determine the legality of sports betting within their borders, Nobile also pointed out areas that still need further consideration—like the continued use of the Federal Wire Act (1961) and the Unlawful Internet Gambling Enforcement Act (2006), as well as how the federal government can provide more regulatory guidelines in order to support the industry.
Catholic Law Professor Susanna Frederick Fischer served as respondent for Nobile. Fischer has practiced law both as a New York attorney and an English barrister. Her primary areas of practice and her main research interests are copyright law, art law, media law, cyberlaw, and constitutional law, from a comparative law perspective. Fischer joined the faculty of Columbus School of Law in 1999, where she teaches or has taught copyright law, art law, entertainment law, introduction to intellectual property law, international intellectual property law, constitutional law, comparative law, comparative constitutional law, and civil procedure. 
Nobile grew up in Pittston, PA, and graduated from Fordham University with a B.A. in Economics in 2017. He is production editor for the Catholic University Journal of Law and Technology, Volume 29. He was selected as a Plato Papps Fellow during his 1L year, awarded to first-year law students at the Columbus School of Law who demonstrate interest and potential in the field of labor law. He clerked for a year with Mooney, Green, Saindon, Murphy, and Welch, a D.C. firm specializing in union-side labor and employment law. He hopes to work in union-side labor and employment law in the D.C. area after graduating.
The Student Scholar Series was founded in 2009 by Catholic Law Professor A.G. Harmon to recognize notable legal scholarship produced by members of the student body during the academic year and to foster the skills associated with presenting and defending that scholarship in a professional, conference-style setting.