March 10, 2021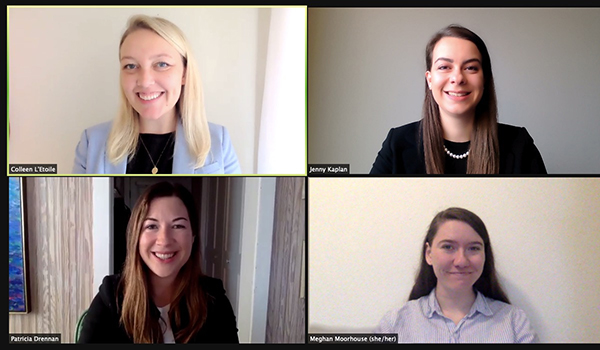 Catholic Law's National Mock Trial Team turned in another impressive performance last weekend, this time at the American Association for Justice (AAJ) regional trial competition, where they advanced to the finals. The team of Meghan Moorhouse (3L), Colleen L'Etoile (3L), Patricia Drennan (2L), and Jennifer Kaplan (2E) represented the law school at AAJ and litigated masterfully, finishing second overall among a pool of eighteen law schools. They lost in the final round on a split ballot.
The case, Carson Gray v. Darren Ryan, was a negligence suit involving a motor vehicle collision between a driver and a motorcyclist. Moorhouse and L'Etoile represented the plaintiff, and Kaplan and Drennan represented the defendant. The team successfully made it through three preliminary round trials before advancing to the semi-finals, where they beat the University of Georgia. They faced the University of Connecticut in the final round.
The coaching was led by Associate Director Lindsey Cloud, with assistance from trial team alumna Vania Smith '20.
"I am so proud of this team for all the hard work and heart they brought to this tournament. They were an incredible group that fought hard until the very end," said Cloud.
The competition was held from March 4-7.