March 01, 2021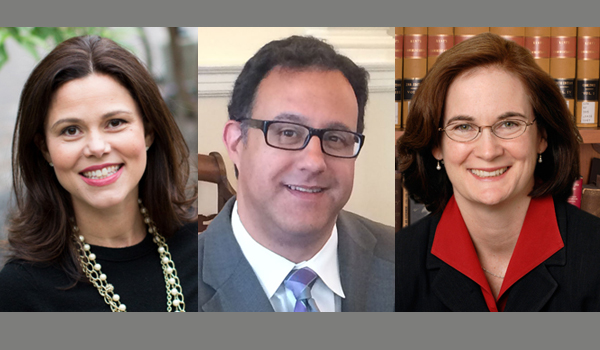 "[...] The Church teaches, in light of the Gospel, that 'the death penalty is inadmissible because it is an attack on the inviolability and dignity of the person.' and she works with determination for its abolition worldwide." 
These are just a few words in Catechism of the Catholic Church, 2267, a precept used for instruction in Catholic social teaching and how it relates to the use of the death penalty. On February 25, Catholic Law's Saint Pope John Paul II Guild of Catholic Lawyers hosted a panel to explore this area of the law. The program, "Death Penalty Abolition: The Law & Catholic Social Teaching," offered both legal and religious frameworks for discussing the issue.
Guild student leaders Timothy Richard (2L) and Jennifer Hwang (2L) welcomed the group and introduced the three speakers before turning things over to event moderator, Professor Mary Graw Leary, who led a conversation between panelists Professor Cara H. Drinan and Jeff Caruso, the founding director of the Virginia Catholic Conference. All three speakers brought unique insights to the discussion, given their varied careers.
To begin the discussion, each panelist took a few minutes to provide context to the issue of capital punishment in America. Drinan provided a lens for the legal landscape of the issue. She provided the group with a brief history of executions in the U.S. and some relevant legal precedents—focusing in particular on developments in the late 20th century. Caruso provided a religious perspective and connected Catholic social teaching to the issue. Caruso cited the dignity of the human person as the bedrock for the Catholic teachings regarding the death penalty.
Through a series of questions posed by Graw Leary, the discussion then delved deeper into political and social considerations. Drinan unpacked decades of jurisprudence to explain court opinions in the 1970s, and discussed current litigation where courts are examining the nature of defendants, the nature of crimes, and the method of execution in making decisions about the death penalty. Caruso noted that issues like the death penalty illustrate how the Church's advocacy cuts across political categories. He outlined a framework for advocating for human dignity and provided some insight into how individuals, especially young lawyers, might develop their consciences on the issue. With the time that remained, both panelists reflected on economic considerations regarding the death penalty, support for the surviving families of victims of violent crimes, and key takeaways for law students to consider while they continue their education and explore future careers further.