February 25, 2021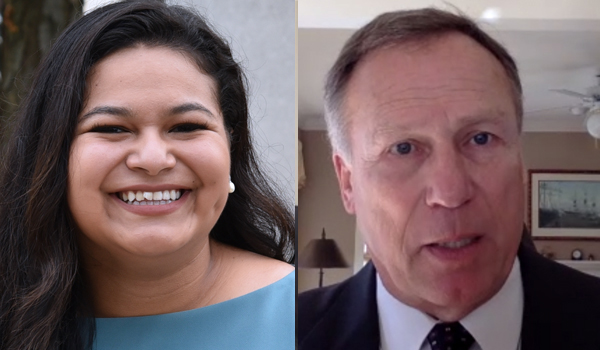 On February 24, 2021, Catholic Law community members gathered for a lunchtime Student Scholar Series presentation. Third-year law student Aimee Solano presented her research, "Air Aware: Crimes in the Air and the Circuit Split That Could Change How and Where Air Crimes are Prosecuted," which explores a circuit split that was created by a 9th Circuit panel decision regarding the criminal prosecution of crimes committed on commercial flights.
Solano's research focused on the split that was created in the United States v. Lozoya (2019) which challenged where crimes committed in airspace on a commercial aircraft could be prosecuted. Solano provided a brief overview of Lozoya's crime and then discussed the constitutional framework and statutory matters that influenced venue considerations for prosecuting the case. Solano also highlighted how flyover venue rules, like the ones Lozoya was arguing for, could unreasonably burden victims of inflight crimes. While the 9th Circuit split has been resolved since Solano began her research, she recognized the importance of understanding why the circuit split and why it ultimately reversed the decision.
Dan Zachem '85 served as respondent for Solano's presentation. Zachem has had an extensive career in criminal law and criminal procedure. Following graduation from the Law School, Zachem served as a Judicial Law Clerk to the Honorable Frank Q. Nebeker of the District of Columbia Court of Appeals. Zachem then served for two years as a Staff Attorney at the United States Court of Appeals for the District of Columbia Circuit. For 22 years, Zachem worked as an Assistant United States Attorney in Washington, D.C. where he litigated numerous cases in both the Superior Court for the District of Columbia as well as the United States District Court for the District of Columbia. The last ten years of Zachem's career at the U.S. Attorney's office were spent as a supervisor in the Homicide Section. Following the U.S. Attorney's office, Zachem taught Criminal Procedure at American University's Washington College of Law before joining the adjunct faculty at Catholic Law. 
Solano is from Southern California. She graduated from Mount St. Mary's University with a BA in Political Science and Philosophy. She is a member of the Moot Court Association and an associate editor of the CUA Law Review. Throughout her time at Catholic Law, she has interned for both state and federal judges, worked for a government agency, and is currently participating in the Low-Income Taxpayer Clinic (LITC). Solano also works part-time as a law clerk at Kelly Guzzo, PLC, a consumer protection firm in Northern Virginia.
The Student Scholar Series was founded in 2009 by Catholic Law Professor A.G. Harmon to recognize notable legal scholarship produced by members of the student body during the academic year and to foster the skills associated with presenting and defending that scholarship in a professional, conference-style setting.