February 11, 2021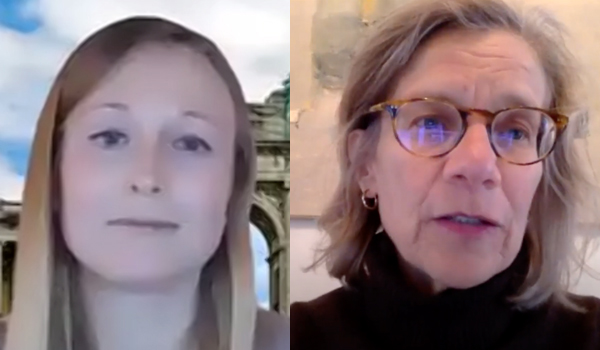 On February 10, 20201, the Contemporary Challenges in American & Global Law web series tackled "European Union and United States Budget-Making: Process, Politics, and Policy in a COVID-Challenged World." Katarzyna Stryjniak (LL.M. 2012), Legal and Policy Officer, European Commission Directorate General for Research and Innovation in Brussels, Belgium led the program's discussion and comments were made by Karen A. Tramontano '82, Chief Executive Officer, Blue Star Strategies in Washington, D. C. Professor Emerita Leah Wortham, Director of the American Law Program and the LL.M. Program at Catholic Law, once again acted as moderator of the event.
Stryjniak began the program by providing a quick overview of the European Union (EU)—detailing its history and current membership, as well as a breakdown of how it functions. From there, Stryjniak outlined the European Union's budget-making process, which is a multiannual financial framework (MFF) aimed to lessen conflict, enhance budgetary discipline, and improve implementation for all member counties. Stryjniak explained the procedure for adopting an EU MFF and concluded with a few final thoughts on the recent agreement which entered into effect on January 1, 2021. Tramontano's comments focused on the contrast between the EU and the United States' process (which is currently underway). She noted that the President of the United States submits the budget annually and it is then up to Congress to approve it or not.
Following their remarks, Tramontano posed a series of questions to Stryjniak before both of them answered questions from the audience. Questions covered topics including what happens when agreement on a budget cannot be reached, how spending on climate change affects member states and citizens within the EU, the pros and cons of a multiannual system as opposed to a yearly budget, and the role of the COVID-19 pandemic in magnifying inequalities and whether or not economic recovery initiatives offer longterm solutions to those inequalities. As the program drew to a close, both Stryjniak and Tramontano took a moment to encourage attendees to explore opportunities to work in public service positions. As Tramontano concluded, "There's nothing like public service. It's the job where you can actually make the most difference in peoples' lives."
To learn more about upcoming events, click here.
You can view a recording of the webinar below.