February 03, 2021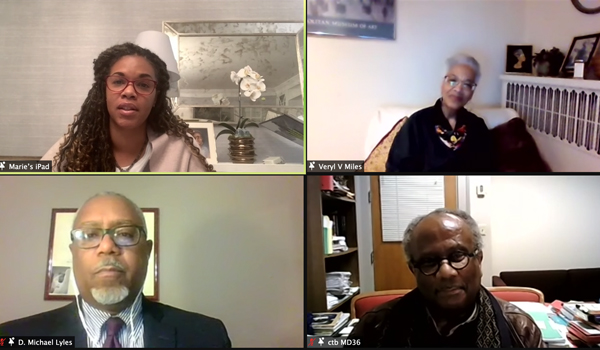 On Monday, February 1, 2021, the Catholic Law community came together for the first of several virtual events to celebrate Black History Month. Hosted by the Black Law Students Association (BLSA), the program, "The Impact of Black Lawyers," aimed to not only highlight the contributions of specific Black lawyers who've had an impact on the field but also magnify the themes and perspective that the Black experience gives to the legal world.
After welcoming remarks from Jada Haughton (2L), Black History Month Chair of BLSA, Fredrick Woods, Clinical Assistant Professor of Law at Catholic Law, provided background information on Black History—defining history through the words of prominent figures like Dr. Clayborne Carson, President Barack Obama, and author Toni Morrison; and introducing attendees to the Father of Black History, Dr. Carter G. Woodson. BLSA President, Shala Barney (3L), then introduced the rest of the evening's panelist Maria Sylla-Dixon '02, Chief Diversity Officer at Raytheon Technologies; D. Michael Lyles '94, City Attorney at City of Annapolis; and Veryl Miles '80, Professor of Law at Catholic.
Through a series of questions posed by Haughton, panelists delved deeper into the experiences of Black lawyers including how the historic experience of Black Americans has shaped their participation in the legal field and representation in Big Law versus other public sector work. Panelists also shared advice they would give to Black lawyers, especially in light of the various events of 2020. Throughout the program, working and leading with purpose was an evident theme. As Professor Miles reiterated, "Be prepared in your practice. Be purposeful in your practice. Be passionate in your practice."
As the program drew to a close, each panelist took a moment to highlight a Black lawyer, past or present, that they felt every American should be familiar with—including serval Catholic Law alumni who are breaking barriers and doing excellent work.
BLSA will be hosting several events this February in honor of Black History Month. The next two events will be held the week of February 15. Please visit the News and Events page for additional information.