January 26, 2021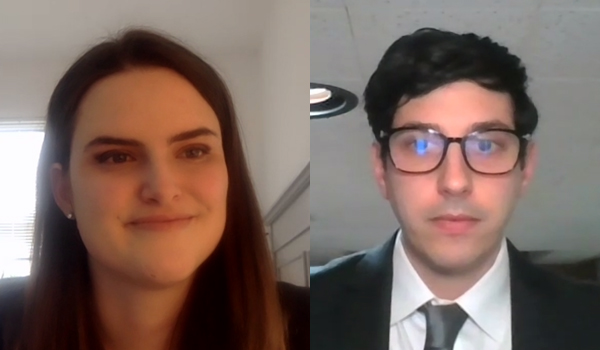 On January 25, 2021, this year's Student Scholar Series began with a presentation given by Catholic Law third-year student Rachel Simoneau. Simoneau's work entitled, "Cross-Examining Someone Who Says 'Me Too:' Effect of Haidak on University Due Process," examines the requirement of universities to provide the opportunity for cross-examination in sexual harassment and violence cases.
Inspired by the national conversation surrounding the #MeToo movement and the known prevalence of sexual harassment and violence on university campuses, Simoneau's research discusses the opposing federal court decisions of Doe v. Baum and Haidak v. University of Massachusetts-Amherst regarding cross-examination, as well as the recently enacted Title IX Final Rule. Through her research, Simoneau proposes that while cross-examination is often heralded as a necessary due process protection, it does more harm than good in university sexual assault disciplinary hearings. She further concludes that the Department of Education, courts, and universities should not require nor allow cross-examination to address the campus sexual assault epidemic.
Scott Z. Goldschmidt '12, an attorney in the higher education practice at Thompson Coburn, LLP, served as the respondent for Simoneau's lecture. He frequently advises on discrimination law, student affairs, contract drafting and review, and policy development and is well-versed in navigating all types of day-to-day and long term legal demands facing colleges and universities. Goldschmidt also has experience with crisis management, advising on reputational concerns, and implementing controls to mitigate risk. Goldschmidt posed a series of questions to Simoneau—particularly delving deeper into requirements of due process and safeguard practices built into Final Rule. With the remaining time, Simoneau took questions from the audience.
Simoneau graduated from the Catholic University of America in 2018 with a B.A. in Politics. She has interned for the League of United Latin American Citizens, clerked for administrative law judges at the Equal Employment Opportunity Commission's Washington Field Office, and interned for Catholic Charities. She plans on working in policy after law school.
The Student Scholar series was founded in 2009 by Catholic Law Professor A.G. Harmon to recognize notable legal scholarship produced by members of the student body during the academic year and to foster the skills associated with presenting and defending that scholarship in a professional, conference-style setting.