January 14, 2021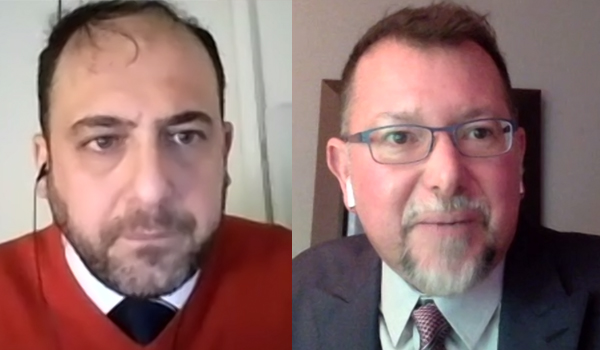 On Wednesday, January 13, Contemporary Challenges in American & Global Law began its winter webinar series. Attendees were welcomed by school officials from both The Columbus School of Law and Jagiellonian University in Kraków, Poland. The first program of the winter series, "Will COVID-19 be a Force Majeure Event in Commercial Contracts? A Civil and Common Law Analysis," was moderated by Professor Emerita Leah Wortham, Director of the American Law Program and the LL.M. Program at Catholic Law. The discussion was led by Vincenzo Senatore (LL.M. '10), a partner in the London office of Giambrone & Partners, LLP, with comments made by Catholic Law Board of Visitors member Andrew Palmieri '87, a partner at Saul Ewing Arnstein & Lehr in Washington, D.C.
Senatore utilized his experience in corporate and commercial law to make his opening remarks. Senatore first defined Force Majeure in the legal context as an extreme event beyond the control of a party, that prevents performance under a contract. He then led the group through a comparative analysis of the concept within civil and common law. Senatore provided four examples to use as a framework for examining the different ways civil and common law principles shape outcomes when resolving COVID-19 related contract disputes. In his comments, Palmieri focused on the U.S. perspective—primarily on how the U.S. relies on common law and highlighted that approaches vary state-by-state. Palmieri also noted that Force Majeure clauses are written to expect the unexpected, but in light of the COVID-19 pandemic, many found the clauses lacking and are going to have to re-evaluate how they write these provisions.
In the time that remained, Senatore and Palmieri answered questions about Force Majeure and the pandemic. Questions reflected on how previous global health concerns have affected Force Majeure, which industries are most impacted by Force Majeure contract disputes, and experience with cross-border contracts and disputes. As the program drew to a close, Professor Emerita Wortham thanked the speakers and those in attendance and noted the benefits of cross-cultural study made possible by this series and the partnership between the two universities.
To learn more about upcoming webinars, click here.
You can view a recording of the webinar below.