December 16, 2020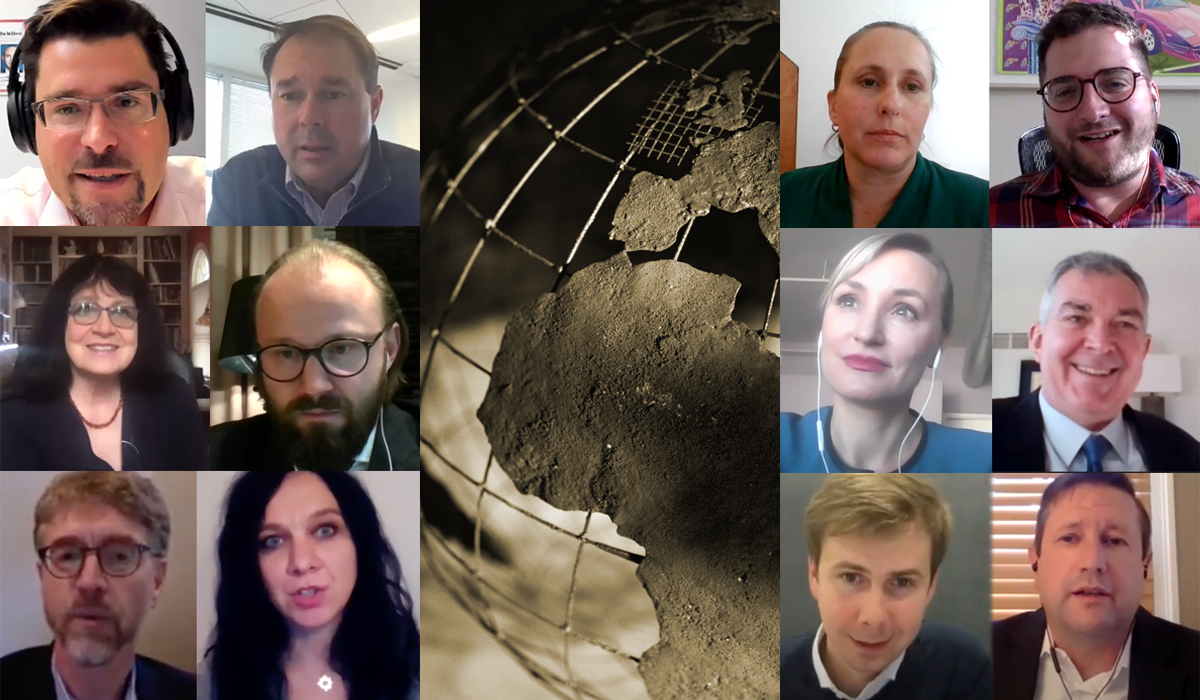 In October 2020, Catholic Law, together with its partners at the Jagiellonian University in Kraków, Poland, established a new virtual web series focused on Contemporary Challenges in American & Global Politics. Spearheaded by Catholic Law Professor Emerita Leah Wortham, the webinars are presented twice-a-month and touch on topics challenging international law today. With attendance averaging 140+ guests per session, the events have reached law students, alumni, and other lawyers around the globe.
The fall season included six of the series' 16-one-hour webinars. Topics covered ranged from corporate responsibility to Artificial Intelligence and each presentation included preeminent speakers in their respective fields. The inaugural program was presented by Dr. Marc Liebscher '06 (LL.M.), Partner at Dr. Späth & Partner Rechtsanwälte mbB, with comments by Christopher D. Christian '98, Partner at Dechert and Catholic Law Board of Visitors member. Liebscher and Christian shared their expertise in corporate fraud while discussing the recent Wirecard scandal in Europe. The second event extended the discussion of corporate responsibility, reflecting on the topic "Why Compliance Matters – The Increasing Significance of the Compliance and Ethics Function in Global Corporations." Catholic Law Professor Sarah Duggin, Director of the Compliance, Investigations, & Corporate Responsibility (CICR) program, led the discussion from the American perspective, and Dr. Michał Rams, White Collar Team Leader for PwC in Warsaw, Poland, commented from the Polish perspective. In November, the series transitioned to take a look at non-profit organizations in crisis. Catholic Law Professor Roger Colinvaux, Director of the Law and Public Policy Program (LPP), discussed three major components of a "crisis" surrounding non-profits and charitable giving in America. Dr. Katarzyna Zdybska Przybysławska, President of Halina Niec Legal Aid Center in Kraków, Poland, also described the differing crisis faced by many Polish non-profit organizations
In the remaining three webinars of the fall, the focus turned towards questions regarding new and growing technology—the Cloud, data privacy, and Artificial Intelligence. Wojciech Jarosinski '11 (LL.M.), a partner at Maruta Wachta, drew on his extensive experience in litigation, negotiations, and legal support in the IT sector to discuss how the use of the Cloud has opened up a new legal frontier. As the commenter on the topic, Paul Nagle '99, Director of International Government Relations for Alibaba, added consideration of how the United States is working to regulate the relatively new technology. Discussion regarding the Cloud was a perfect onramp for the following week's topic, "Data Privacy in the U.S." Co-presenters Justyna Regan, (LL.M. 2005), a senior attorney at Miller Canfield, and Douglas G. Bonner '83, a partner for Potomac Law Group and Catholic Law Board of Visitors member, spoke about the different approaches to data privacy that the European Union and the United States have taken and considered possible future agreements regarding regulation between them. In the final fall webinar, Megan La Belle, Professor of Law and Co-Director of Catholic Law's Law and Technology Institute (LTI), and Tytus Cytowski (IBTSLP 2001), founding partner of Cytowski & Partners, discussed the United States' policies on Artificial Intelligence and Intellectual Property.
We are excited to announce the upcoming topics and speakers scheduled for the winter season, which begins January 13, 2021, with a terrific group of speakers and commenters. Below are the next six events in the schedule are listed below. To register for the events, you may click on the event titles.
Wednesday, January 13, 2021, 1 pm (EST) (DC), 7 pm GMT+1 (Poland)
Will Covid-19 be a Force Majeure Event in Commercial Contracts? A Civil and Common Law Analysis 
Speaker: Vincenzo Senatore (CUA LL.M. 2010), Giambrone & Partners, London, U.K.
Commenter: Andrew F. Palmieri '87, Partner, Saul Ewing Arnstein & Lehr, Washington, D.C. 
Wednesday, January 27, 2021, 1 pm (EST) (DC), 7 pm GMT+1 (Poland)
International Law and the New Biden Administration
Speaker: Geoffrey P. Watson, Professor of Law (retired) and Director, Comparative and International Law Institute
Commenter: dr hab. Izabela Kraśnicka, (IBTSLP 1998), Faculty of Law, University of Białystok, Poland
Wednesday, February 10, 2021, 1 pm (EST) (DC), 7 pm GMT+1 (Poland)
European Union and United States Budget-Making: Process, Politics, and Policy in a COVID-Challenged World
Speaker: Katarzyna Stryjniak (CUA LL.M. 2012), Legal and Policy Officer, European Commission Directorate-General for Research and Innovation, Brussels, Belgium
Commenter: Karen A. Tramontano '82, Chief Executive Officer, Blue Star Strategies, Washington, D.C. 
Wednesday, February 24, 2021, 1 pm (EST) (DC), 7 pm GMT+1 (Poland)
How Well Did the Post-2008 Financial Crisis Regime Prepare the World for the COVID-19 Pandemic?
Speaker: Heidi Mandanis Schooner, Professor of Law
Commenter: Michał Bobrzyński, (JU-CUA ALP 2005), Partner, Greenberg Traurig, Warsaw, Poland
Tuesday, March 2, 2021, 1 pm (EST) (DC), 7 pm GMT+1 (Poland)
The War on Kids: Progress and the Path Forward on Juvenile Justice
Speaker: Cara H. Drinan, Professor of Law and Director of Faculty Research
Commenter: prof. dr hab. Włodzimierz Wróbel, Chair of Criminal Law, Jagiellonian University, and Polish Supreme Court Justice
Wednesday, March 24, 2021, 12:00 pm (EDT) (DC), 7 pm GMT+1 (Poland)
Sustainable Investment—The New Heart of EU Financial Market Regulation
Speaker: Gaspar Kot (CUA LL.M. 2012), UBS, Kraków, Poland
Commenter: Chris Concannon '94, President & Chief Operating Officer, MarketAxess, New York City, New York