October 29, 2020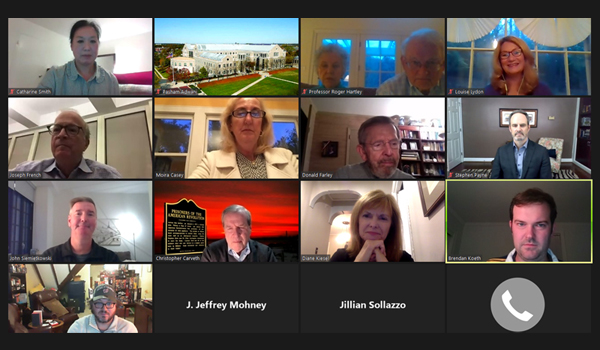 On October 28, Catholic Law alumni from the New York City area met virtually for the annual New York City Pub reception. Hosted and sponsored by Board of Visitors member Joe French '83 and Moira Casey '83, the group enjoyed wonderful conversation and heard from special guest Professor Roger C. Hartley.
Hartley spoke about his revelatory experience with distance teaching, his forthcoming book on the Confederate monument issue, and expressed his gratitude for Dean Stephen C. Payne and the work he has done so far as dean. As he concluded, Hartley addressed those in attendance, saying, "There are lots of reasons you're proud of the school, if you weren't proud of the school, you wouldn't be here tonight. I'm hoping I've given you another reason to be really proud that you're a CUA graduate."
The evening event also provided an opportunity for alumni to hear from Dean Payne who spoke in some detail about current initiatives underway at the Law School.