October 30, 2020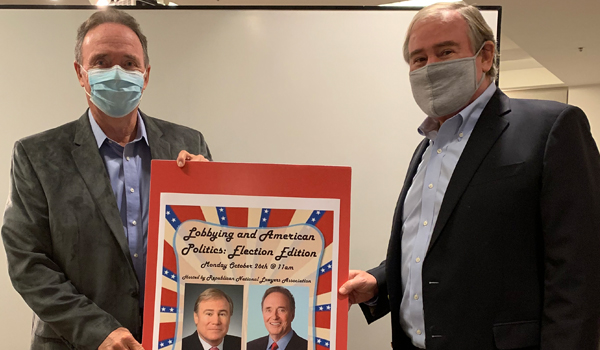 On October 26, 2020, The Republican National Law Association (RNLA) held a lunchtime presentation, Lobbying & American Politics. Catholic Law Adjunct Professor Phillip Brady, introduced the discussion topic. In his opening remarks, Brady "laid a little legal groundwork for lobbying in our American system" and he outlined the topic.
Brady then welcomed the event's guest speaker, Dan Lungen. Lungren currently works as senior counsel for King & Spalding in the firm's Government Advocacy and Public Policy group. Previously, Lungren was a United States Congressman and California State Attorney General. In discussing lobbying, Lungren shared his knowledge of the legislative and executive processes as well as personal experiences in navigating politics spanning several decades. Lungren began by pointing out that despite the negative connotations that the American public has grown accustomed to, "anybody who petitions their government is a lobbyist." From that starting point, he discussed his early career in politics and what he learned as a member of Congress and an Attorney General about working with lobbyists. Lungren emphasized the importance of lobbyists as a source of information, but that it is equally important to be discerning of the information they provide. "If you are an intelligent and hardworking public servant, elected to office, you can rely on lobbyists as an effective means of information, but you evaluate lobbyists."
As the discussion drew to a close, Lungren concluded, "politics is not something that you can ignore [...] either you will control it or you will be controlled by those who do." Brady agreed, noting a similar lesson he has learned in his career, "If you do not turn onto politics, politics will turn on you." Lungren then took questions from those in attendance.
Amanda Holbrook (3L), who organized the event, shared, "Politics has become more polarized and partisan which has brought increased discussion surrounding lobbyists and their impact on the democratic system. Political candidates on the campaign trail will swear off lobbyists or taking funds from particular groups, but the facts show that lobbyists are still heavily utilized. It was important to have an open and honest discussion about lobbying and analyze how much of an impact they really have in the government and in our elections leading up to a historic election season."