October 27, 2020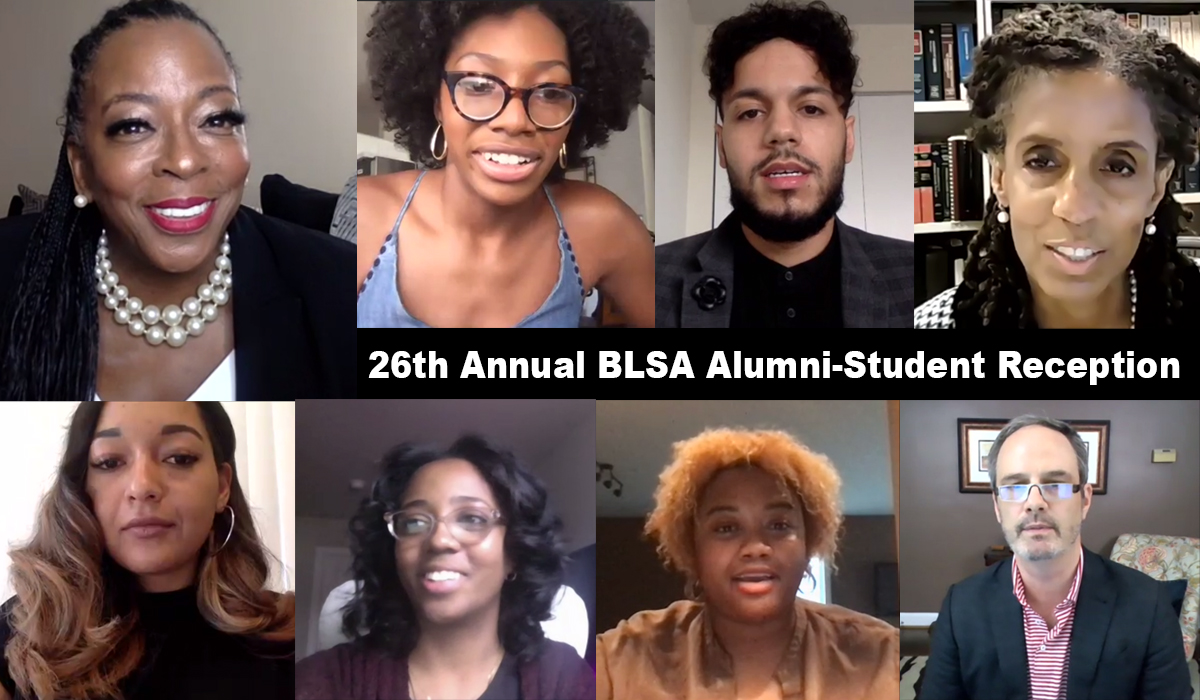 From L to R: Top: Deborah Watson-Stokes, Shala Barney, Gilbert Orsini, and Regina Jefferson Bottom: Ericka Hornbuckle, Tianna Jenkins, Jada Houghton, and Stephen Payne
On Friday, October 23, 2020, guests and friends of Catholic Law joined virtually for the 26th Annual Black Law Students Association (BLSA) Alumni-Student Reception. The evening honored Deborah Watson-Stokes '90, Supervisor of the Municipal Court Unit, Assistant District Attorney for Philadelphia District Attorney's Office.
Erica Hornbuckle (3L), Secretary of the BLSA E-Board, welcomed the group and outlined the agenda for the evening's program. To begin, Hornbuckle briefly discussed BLSA's declaration—drafted following the tragic murders of George Floyd, Breonna Taylor, Ahmaud Arbery, and countless others—and directed at creating institutional change at Catholic Law. Hornbuckle shared, "Following the publication of our declaration, BLSA and the administration have been diligently working to establish change through the Toward A Better Future Initiative." Professor Regina Jefferson, BLSA Faculty Advisor, and Dean Stephen C. Payne were then introduced and each took the opportunity to welcome guests to the event.
Gilbert Orsini (3L), Vice-President of BLSA, and Jada Houghton (2L), Black History Month Chair, spoke further about the organization's initiatives for the academic year. Orsini highlighted what BLSA has been able to accomplish so far this year as well as outlined the core goals of the organization moving forward. Houghton spoke about alumni support for BLSA. She noted that as they strive to further the work set out by the BLSA declaration, active alumni participation is more important than ever. Tianna Jenkins (3L), BLSA Treasurer, then introduced the evening's honoree, Watson-Stokes, to deliver her address.
Watson-Stokes began her presentation by noting that she had originally planned for her speech to be a "call to action" for BLSA students to get involved in pursuing fairness, justice, and equity; however, after learning about the initiatives BLSA is currently pursuing, she shared her pride in knowing that they were already doing that. "You are speaking truth to power, and they are listening." She also noted how encouraging it was to know that progress is being made. Watson-Stokes used her time as an opportunity to speak about her experiences as a Black prosecutor, lawyer, and a member of the Catholic Law community. She encouraged students to find where they fit within the legal community, to use their resources to figure out who they want to be and where they want to go. As her time drew to a close, Watson-Stokes emphasized the importance of diversity in the field—particularly noting the power that prosecutors hold—and underscored that point sharing, "Be at the table when decisions are being made."
Following Watson-Stokes presentation, Shala Barney (3L), BLSA President, made her closing remarks—thanking Watson-Stokes for her time and her commitment to the Catholic Law chapter of BLSA, and opened up the discussion for questions from those in attendance.