October 23, 2020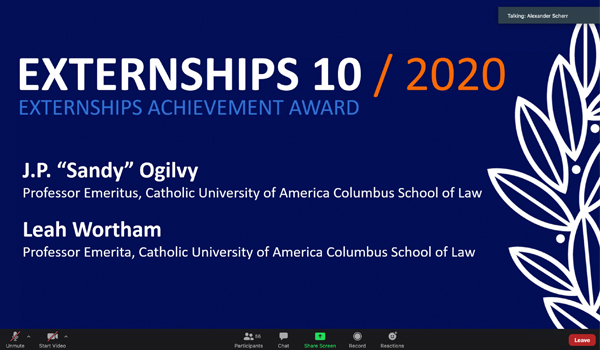 On October 22, 2020, Professors Emeriti Leah Wortham and J.P "Sandy" Ogilvy were honored as the inaugural recipients of the Externships Achievement Award at the Externships 10 Conference, "20/20 Vision for the Future," hosted by Syracuse University College of Law.
The award, created and awarded by the Externships 10 planning committee, honors "the nominee's commitment to teaching and supporting law students in their transition to practice; the nominee's contribution to the design and implementation of effective externship programs; the nominees' service to the externship community—specifically and to the development and growth of experiential legal education generally; the nominee's record or written scholarship, teaching resources, or other enduring public works of value to the externship community and experiential legal education; and the nominee's other activities that benefit law students through externships."
Alexander Scherr, Director of the University of Georgia School of Law Veterans Legal Clinic opened the ceremony by acknowledging just how much work both Wortham and Ogilvy have done to create and sustain the externship community of teachers. He stated, "It's not too much to say that they have created the ecosystem of our current professional lives as externship educators." He listed their numerous, major contributions to the externship community—including the first two national Externship Conferences in 1998 and 2003—and noted their generosity of spirit that they share with everyone they meet.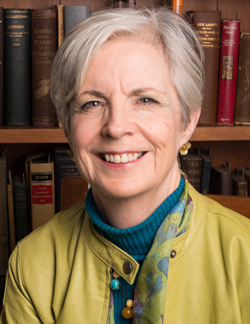 Wortham has distinguished herself as a scholar, teacher, and consultant and has served the Catholic Law community in enumerable ways. She served as Clinical Coordinator from 1981-1990 and as Associate Dean for External and Student Affairs from 1990-1995. Commencing in 1988, she chaired the committee for the law school building that opened in 1994. Wortham currently serves as the CUA director for an LL.M. program offered in conjunction with Jagiellonian University in Kraków, Poland, and for an American law certificate program in which Jagiellonian and international LL.M. students are enrolled. In her acceptance remarks, Wortham reflected on the value of externships and experiential learning, and the privilege it is to help support students. She concluded, sharing, "While externship teachers sometimes are not respected and valued within their own schools as they should be, please remember that what you do is very important—and I hope it will bring you joy."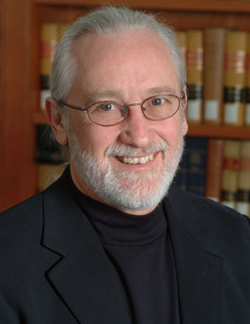 Ogilvy has used his passion for clinical education to fuel a long and distinguished career. His scholarship and coordination of clinical programs have shaped the landscape of experiential learning. Ogilvy has been recognized with the 2003 William Pincus Award by the Association of American Law Schools Section on Clinical Legal Education and with the Father Robert F. Drinan Award by the AALS Section on Pro Bono and Public Service Opportunities. In 1991, Ogilvy followed Wortham as coordinator of clinical programs at Catholic Law and held the position for 15 years. In his remarks, he noted the strength of the externship community. Thanking the group he shared, "I chose to speak second because I followed Leah at Catholic—I took her position when she moved on to other things [...] and I second everything she says about the community. I am truly delighted that this is the 10th iteration of the conference and it looks like it's going strong even in the midst of the pandemic."