October 16, 2020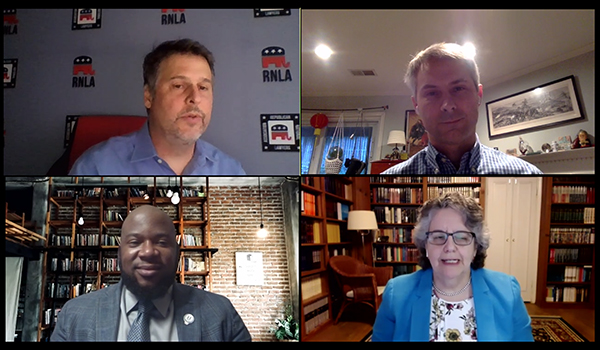 On October 14, the American Constitution Society (ACS), the Democratic Law Student Association (DLSA), The Federalist Society, the Law and Technology Student Association (LTSA), and the Republican National Lawyers Association (RNLA) joined together to host a program entitled "Election Integrity: A Bipartisan Panel Discussion." The panel was moderated by Adjunct Professor Troy A. McCurry '06. In addition to teaching courses on campaign finance law and election law, McCurry is the Director of Government Relations at The Pew Charitable Trusts.
Panelists for the evening's discussion were Darin Johnson, Associate Professor of Law at Howard University School of Law; Michael Thielen, Executive Director of the national chapter of the Republican National Lawyers Association; and Ellen Weintraub, a Commissioner on the Federal Election Commission.
McCurry posed a series of questions to each of the panelists. The Bipartisan panelists focused on a results-oriented approach to each of the presented topics. Discussion topics included Russian interference in the 2016 election; the continued, rampant use of misinformation tactics, campaign financing and disclosure rules, and the importance of greater public awareness of interference. Panelists noted the push towards more extreme political viewpoints in recent years and much of the "weaponization" of national strife is part of a long legacy of foreign interference.
The final topic for the evening's event was the question of the safety and security of voting by mail—an issue at the forefront of the National consciousness as we draw closer to Election Day. McCurry closed the discussion with concluding remarks, "Hopefully, as time progresses, we can find common ground and make sure that at the end of the day everyone that is allowed to vote, can easily vote and anyone that's not allowed to vote or be involved in our election is not."
Owen Salyers (2L), one of the event's organizers, shared, "Helping to organize this event gave me the opportunity to see members of not only both sides of the political aisle but also both sides of the legal sphere join together. During these times of division, it was encouraging to see individuals willing to reach across the aisle and have a discussion about the integrity of our elections."