September 10, 2020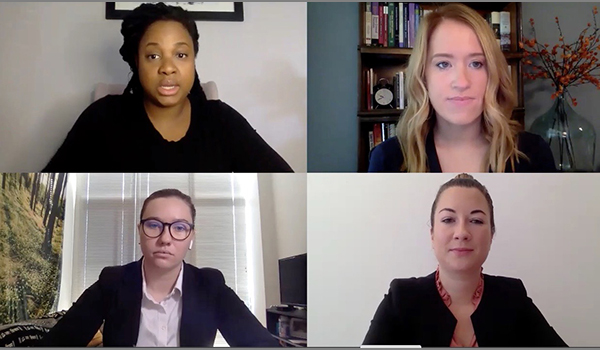 Clockwise from top left to right: Vania Smith ('20), Associate Director Lindsey Cloud, Patricia Drennan (2L), and Meghan Moorhouse (3L).
Catholic Law's National Mock Trial Team begins preparing for the upcoming season, which will be unlike any other before it.
Following the selection of its newest members and their annual training camp, team members are now getting ready for a fall of virtual trial competitions, during which they will compete against the best programs in the country.
Catholic will compete first at the Summit Cup, a competition hosted by the University of Denver School of Law. This competition is typically reserved for programs that won a trial competition the previous year. Representing the law school this year will be Thomas Dillon (3L) and Colleen L'Etoile (3L), with Bev Diaz (2L) serving as witness. Catholic finished in second place at the Summit Cup in 2019.
Next on the team's schedule is the All-Star Bracket Challenge, a one-time competition designed to provide law schools around the country with a unique virtual mock trial experience. The competition's format will resemble the NCAA basketball tournament, brackets and all, with winning teams advancing to the "Sweet Sixteen," "Elite Eight," "Final Four" and championship final over the course of two weekends. Representing the law school will be Dillon, Garrett Tracey (3L), Meghan Moorhouse (3L), and Diaz.
The team's final fall event will be the prestigious Tournament of Champions, a competition reserved for the top sixteen trial advocacy programs in the country as determined by performance over the last three years. This will be the law school's first ever appearance at the tournament. Representing the law school will be Patricia Drennan (2L) and Jenny Kaplan (2E).
"This fall is going to be a welcome challenge. Virtual advocacy is taking place all across the country right now, and our students must adapt to it. They're training, learning, and preparing to compete." said Lindsey Cloud, associate director of the National Mock Trial Team. "We're going to be ready," she added.