September 03, 2020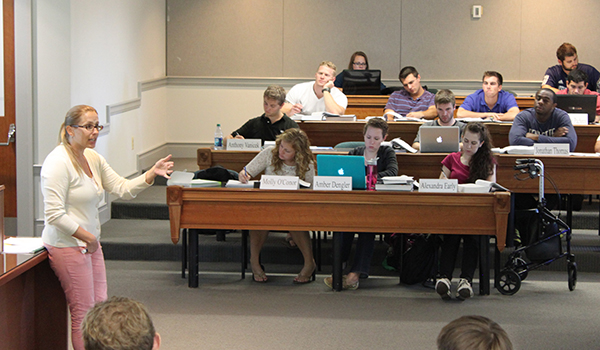 The faculty at Catholic Law is comprised of educators dedicated to teaching, scholarship, and service. Not only do they provide a first-rate legal education, but just as importantly, they prepare our students for life—acknowledging the importance of preparing for pressure.
For Professor Megan La Belle, the ability to remain calm in the face of pressure is a crucial skill for a good lawyer and advocate. "Law school is stressful, law school is difficult, and everyone is under a lot of pressure. But, part of law school and part of becoming a good lawyer is learning how to handle that pressure and that stress because you are going to experience that as a lawyer and in your life." La Belle continued, "I come to the law as a litigator, to my teaching as a litigator, and we often work under a ton of pressure […] Do you always practice law that way? No. But I think for much of what we do, those are really vital skills."
La Belle writes and teaches at the intersection of procedure and intellectual property, and more recently, at the intersection of administrative law and intellectual property. La Belle always thought she would pursue an academic career, and when she was in law school, there was a very specific path to take to achieve that goal. "You did well in law school, then you clerked, and then you would work for a law firm for two or three years. And then you would go on the teaching market." What La Belle hadn't anticipated was how much she would enjoy practicing. While the plan started out as two years of practice, La Belle stayed practicing "longer than intended before making the transition to the academy."
Through two clerkships and her time in practice, La Belle was drawn to patent law. Although she initially planned to specialize in securities litigation, it just didn't quite have the same hold. "I really liked [patent law cases]. I liked working with engineers and scientists as clients. I liked that in patent cases, sometimes you represent the plaintiff and sometimes you represent the defendant. It's not like you are always representing the defendant like you normally would be in securities litigation. I also liked that we were almost always in federal court which is someplace I was comfortable, having clerked for two years in federal court."
Her time in practice also helped La Belle to see that there are a lot of different ways to be good lawyers and good advocates for clients. "One of the things that I really appreciated from my time in practice is that you get to work with lawyers with all different styles and approaches, and there are certain things that you come to admire and that you try to emulate. But there is no 'one' formula for how to be a good lawyer." La Belle reiterated the importance of being able to remain calm under pressure as a crucial skill for a lawyer to have in their arsenal, but how each lawyer ultimately uses that skill and others may differ. La Belle also noted the importance of being able to see the other side of an argument—a skill she works on a lot with her students. "A good advocate is one who understands and appreciates the other side's arguments and then can figure out the best and most effective ways to respond to those arguments." From the first semester of their first year in Civil Procedure, La Belle works to impress upon her students "that facts really matter and facts are important," doing exercises to show how often the same fact can be construed and utlized in different ways.