August 14, 2020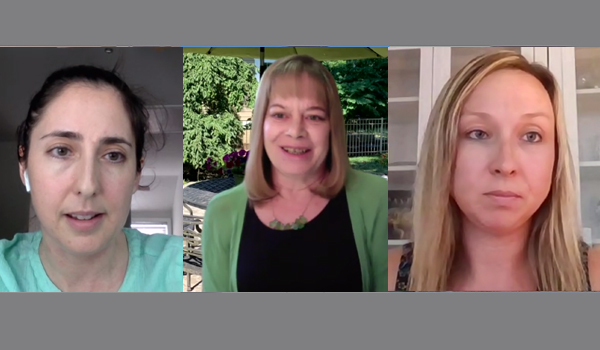 On August 13, 2020, Catholic Law's Office of Development and Alumni Relations hosted its final virtual series discussion, COVID-19 and Professional Responsibility: Pandemic Impact on Lawyers' Pro-Bono Work. Professor Cara H. Drinan, Director of Faculty Research, welcomed moderator Professor Lisa Everhart for a discussion with Blair Decker '11, Pro Bono Attorney for Hogan Lovells, and Kiva Zytnick, Associate Director of Catholic Law's Pro Bono Program.
Everhart opened the discussion by noting the "incredible spike in the need for Pro Bono legal services" created by the ongoing pandemic, adding that it was a need that had been largely unmet even prior to the pandemic. Everhart then outlined the direction of the conversation, asking that both Decker and Zytnick address how their organizations are addressing the new challenges created by the pandemic and the types of legal issues where the need is greatest. Decker shared, "the greatest legal need is really in the areas that there already was a great deal of legal need." Zytnick agreed that the needs that were seen before COVID-19 have now been amplified.
Everhart continued, posing a series of questions to Decker and Zytnick about their thoughts regarding how the pandemic has impacted pro bono work. The discussion covered new challenges to providing services, the legal responsibility to effectively communicate with clients, and initiatives to increase engagement in important Pro Bono work. Decker and Zytnick also spoke hopefully about opportunities for long-term effects that might carry over from the pandemic. Decker shared her excitement about the increased ability to work with people across the country, "That is good and I hope that it continues because we've proven we have the technology to make that happen." Zytnick added, "It's exciting that people seem willing now, in a way that they weren't willing before March, to be thinking outside the box, to be thinking more creatively, to be thinking about how they can work together with other people; how they can deliver services and meet needs in new ways. I think there is a lot to be learned from that."
As the discussion drew to an end, Decker and Zytnick both took the opportunity to share opportunities and ways others can get involved and step up in providing Pro Bono services to those in need. They also shared practical strategies for how to get involved.
This was the sixth and final installment of the "COVID-19 and the Law" summer series. Please stay on the lookout for upcoming alumni events in the fall.
For resources on getting involved in Pro Bono work visit:
https://www.dcbar.org/pro-bono/volunteer-opportunities
https://wetheaction.org
https://aba.joinpaladin.com/aba-disaster-relief/
https://dcrefers.org/pages/join_our_directory
https://wclawyers.org
https://www.dcvlp.org/volunteer/
https://www.nvrdc.org/
https://www.caircoalition.org/