August 10, 2020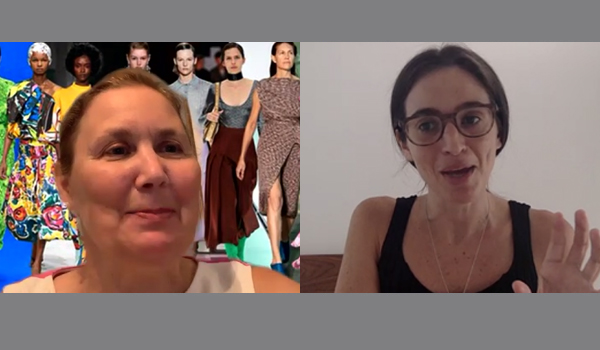 On August 6, 2020, Catholic Law's Office of Development and Alumni Relations and Professor Cara H. Drinan, Director of Faculty Research, hosted a virtual discussion of COVID-19 and Legal Implications for the Fashion Industry. Professor Susanna Fischer, Director of the International Human Rights Summer Law School Program in Rome, Italy, spoke with Catholic Law alumna Julie Zerbo '15, Founder and Editor-in-Chief of The Fashion Law (TFL).
Following introductions of Fischer, Zerbo, and the work that they both do, Fischer opened the discussion by asking Zerbo for more detail on how she first got interested in the field of Fashion Law and how she built her career. Zerbo cited discussions with Fischer during her 2L year as her introduction to the then-emerging field of Fashion Law. Zerbo was "immediately taken with the potential to marry intellectual law and industry like fashion, which is so vast geographically and worth so much money[…] that impacts people across the globe." Zerbo launched TFL while in law school and continued to run it while working as a lawyer. It has been only relatively recently that Zerbo has pivoted to focus on TFL full-time.
Fischer continued, posing a series of questions to Zerbo about her thoughts regarding how the pandemic has impacted the fashion industry. The discussion covered the various levels of fashion from production to retail, from environmental impact to social consciousness. Zerbo also broke down the increase in Chapter 11 Bankruptcies (even in big-name brands) as well as other legal issues the evolution of the value of intellectual property in fashion. Zerbo noted throughout the discussion that "all of the trends, in [her] opinion, that we are seeing as a result of COVID are oftentimes trends that existed already and just have been accelerated or intensified as a result of COVID."
Following the discussion, Fischer opened the floor to answer questions by attendees. As the evening drew to a close the conversation ended with a hopeful comment from Fischer. "Certainly COVID is a global tragedy that is causing immense hardship for way too many people around the world in far too many ways, but I think that we can see that perhaps there is some hope that can come out of this. That we can as a society change certain ways of doing things that are perhaps wasteful or bad for the environment or bad for working conditions. That is the hope."
This event was fifth in the six-part virtual series, COVID-19 and the Law. The final installment in the series is scheduled for August 13, 2020, and will be moderated by Professor Lisa Everhart.